Web.design
Get the FlatPix UI Kit for only $7 - Learn More or Buy Now We have something a little different for you today. Our friends over at iStock reached out to us to let us know about a promotion they are running and gave us these promo codes to share with our readers for additional savings off any credit pack… Read More If you still have any doubts about how important it is for you to adopt a responsive layout, it is time for you to stop wondering. It doesn't matter what you are working on, your website need to work smoothly in all browsers.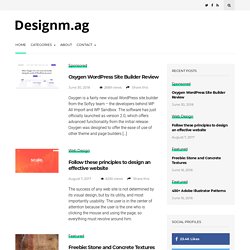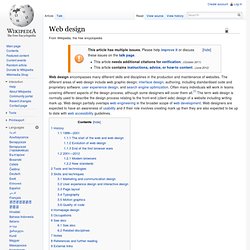 Web design encompasses many different skills and disciplines in the production and maintenance of websites. The different areas of web design include web graphic design; interface design; authoring, including standardised code and proprietary software; user experience design; and search engine optimization. Often many individuals will work in teams covering different aspects of the design process, although some designers will cover them all.[1] The term web design is normally used to describe the design process relating to the front-end (client side) design of a website including writing mark up. Web design partially overlaps web engineering in the broader scope of web development.
Web Design Interviews
Eva-Lotta is a freelance User Experience Designer. She previously led the Business design team at Skype, worked as interaction designer for Yahoo! in London and as lead designer for Kahn + Associates in Paris. Besides her daytime mission of making the web a more understandable, usable and hopefully more delightful place, she loves sketching, doodling and playing around with various little side projects. In her interview to DI she shared her feelings about her in-house work experience as well as her new freelance status.
For our first inspirational list of 2014 we decided to gather examples of white type in web design. I'm always browsing css galleries and other sites to find nice things to show here, and I noticed that a lot of sites use the dark/colorful background white type combo. This is why I decided to dedicate a list to it. Whether you are using a beautiful background image, a texture, or even a big video, overlaying white type can create a very dramatic effect. Check out the examples we have here and give white type a try in your next project. (more…) AREA 1 - Graphic/web design tutorials & articles
When you're trying to decide what platform, shopping cart, or CMS to use for an e-commerce site the options can become overwhelming. You could go with an open source option, a simple shopping cart for selling digital downloads, an enterprise system for large shops, create your own custom system, or choose a hosted platform. In recent years several hosted e-commerce platforms have gained in popularity, partly because they are very easy to setup and use. Every option will have pros and cons, and in this article we'll take a detailed look at hosting platforms to help you decide if this is the right option for you or your client. A hosted e-commerce platform will provide you with web hosting as well as the e-commerce functionality. You'll pay one monthly fee that will cover all aspects of the service, and you'll get support from one company for both the hosting and e-commerce.
What is CSS? Cascading Style Sheets (CSS) is a simple mechanism for adding style (e.g., fonts, colors, spacing) to Web documents. These pages contain information on how to learn and use CSS and on available software. They also contain news from the CSS working group. Soft­ware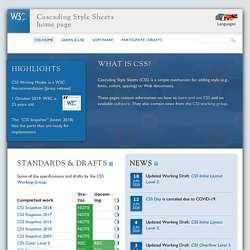 The Future of WordPress Starting with just a simple line of code 11 years ago, WordPress has evolved to become the platform of more than 74 million websites. Even with a vast array of competitors offering similar functionality, WordPress still dominates the CMS market with a 21.9% market share. continue reading » How to Make Distributed Design Teams Work