Web.design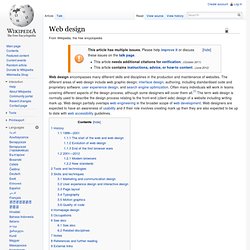 Web design encompasses many different skills and disciplines in the production and maintenance of websites. The different areas of web design include web graphic design; interface design; authoring, including standardised code and proprietary software; user experience design; and search engine optimization. Often many individuals will work in teams covering different aspects of the design process, although some designers will cover them all.[1] The term web design is normally used to describe the design process relating to the front-end (client side) design of a website including writing mark up. Web design partially overlaps web engineering in the broader scope of web development.
Web Design Interviews
AREA 1 - Graphic/web design tutorials & articles
When you're trying to decide what platform, shopping cart, or CMS to use for an e-commerce site the options can become overwhelming. You could go with an open source option, a simple shopping cart for selling digital downloads, an enterprise system for large shops, create your own custom system, or choose a hosted platform. In recent years several hosted e-commerce platforms have gained in popularity, partly because they are very easy to setup and use. Every option will have pros and cons, and in this article we'll take a detailed look at hosting platforms to help you decide if this is the right option for you or your client. A hosted e-commerce platform will provide you with web hosting as well as the e-commerce functionality. You'll pay one monthly fee that will cover all aspects of the service, and you'll get support from one company for both the hosting and e-commerce.
What is CSS? Cascading Style Sheets (CSS) is a simple mechanism for adding style (e.g., fonts, colors, spacing) to Web documents. These pages contain information on how to learn and use CSS and on available software. They also contain news from the CSS working group. Soft­ware