Web.design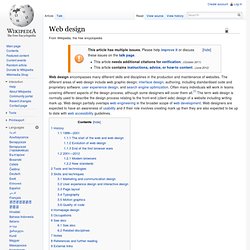 Web design encompasses many different skills and disciplines in the production and maintenance of websites. The different areas of web design include web graphic design; interface design; authoring, including standardised code and proprietary software; user experience design; and search engine optimization. Often many individuals will work in teams covering different aspects of the design process, although some designers will cover them all.[1] The term web design is normally used to describe the design process relating to the front-end (client side) design of a website including writing mark up. Web design partially overlaps web engineering in the broader scope of web development.
Web Design Interviews
AREA 1 - Graphic/web design tutorials & articles
Graphic and web design are areas that thrive off the creation and manipulation of trends. If you've ever closely studied either area, you know there are many basic rules of thumb. From these basics spread many of today's newest trends. The gift and curse of trends are they're never a secret. Like any popular thing, once it catches on, it spreads and grows like wildfire. With web design, we tend to find a new implementation of something 'cool' every month or so.
Soft­ware Nearly all browsers nowadays support CSS and many other applications do, too. To write CSS, you don't need more than a text editor, but there are many tools available that make it even easier. Of course, all software has bugs, even after several updates. And some programs are further ahead implementing the latest CSS modules than others.