Wallpaper
Wallpaper Tadka. Ezuca Gilmar Jimeno. G A L L E R Y - greg martin. Digart.pl - digital art community. WALLPAPERS | FREE DESKTOP WALLPAPERS | FREE STOCK PHOTOS. Blaberize | blaberize wallpapers - wallpaper.blaberize.com. Blaberize: The Wallpaper Blog. Travel, Work, Life...and every thing in between! Wonderful Photos. Desktop Nexus Wallpapers - Wallpaper, Desktop Wallpapers, Computer Backgrounds.
Online Tips for Tech Users, Designers and Bloggers. 50 Stunning and Beautiful Desktop Wallpapers. If you spend a lot of time on your computer, you probably want to make it a friendly place.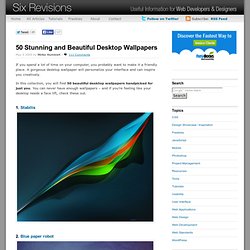 A gorgeous desktop wallpaper will personalize your interface and can inspire you creatively. In this collection, you will find 50 beautiful desktop wallpapers handpicked for just you. You can never have enough wallpapers – and if you're feeling like your desktop needs a face lift, check these out. 1. Stabilis.
---