C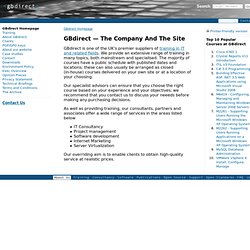 GBdirect E-Commerce Consultancy Training and Software Development
GBdirect is one of the UK's premier suppliers of training in IT and related fields. We provide an extensive range of training in many topics, both mainstream and specialised. The majority of courses have a public schedule with published dates and locations; these can also usually be arranged as closed (in-house) courses delivered on your own site or at a location of your choosing. Our specialist advisors can ensure that you choose the right course based on your experience and your objectives; we recommend that you contact us to discuss your neeeds before making any purchasing decisions.
developerWorks : Linux
8 Apr Embarcadero RAD NewsFlash Newsletter - April 2014 Multi-Device Developer News Tim DelChiaro Article 7 Apr First Look Webinar: RAD Studio XE6, Delphi XE6 and C++Builder XE6 Register for the April 16 webinar to see what's new in RAD Studio XE6 7 Apr VENDOR SHOWCASE: Raize Components - Advanced Techniques
Developers, DBAs, and Architects | Embarcadero Developer Network Home Page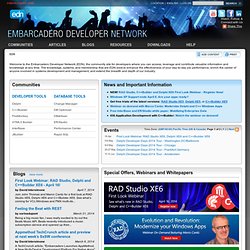 The Google Summer of Code™ 2013 is on! Haiku is proud to be applying as Mentoring Organization ! Thanks goes to the participation of various individuals in the community, particularly our Google Summer of Code admin Matthew S. Madia and those who volunteered to become Haiku mentors . If selected, 2013 marks the seventh consecutive year for Haiku as a mentoring organization. Once again, we could be joining many open source projects chosen by Google to take part in this great program.