Technology
Internet of things. Technology. Mr. Martin's Web Site - Museum. Welcome to my on-line Museum.
There are actually seven museums: a camera museum, a computer museum, a calculator museum, a bicycle museum, a typewriter museum, a car museum and an "other technology" museum which for now has tennis and racquetball racquets, clocks and watches, GPS receivers, televisions and auditory equipment (radios, etc.), phones, cars, vacuum cleaners and books. There are over 600 items in the museums with a value when new exceeding $250,000! (This excludes the cars. Google docs. Technology.
Google Tips, Tricks & Hacks. GOOGLE. Why You Should Never Ask Friends or Family to Fix Your Computer [Opinion] There seems to be this huge misunderstanding that anyone who knows something about computers is a geek and can fix them, regardless of what is broken.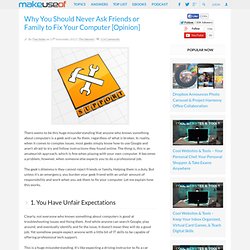 In reality, when it comes to complex issues, most geeks simply know how to use Google and aren't afraid to try and follow instructions they found online. The thing is, this is an amateurish approach, which is fine when playing with your own computer. It becomes a problem, however, when someone else expects you to do a professional job. The green USB ports on Razer's new Blade cost $380,000 to design. "If you want to get something perfect, it needs constant dedication," is how Razer's CEO defends the decision.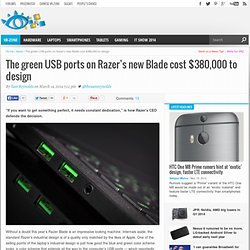 Without a doubt this year's Razer Blade is an impressive looking machine. Internals aside, the standard Razer's industrial design is of a quality only matched by the likes of Apple. One of the selling points of the laptop's industrial design is just how good the blue and green color scheme looks, a color scheme that extends all the way to the computer's USB ports — which reportedly cost $380,000 to design with Razer's trademark green color. Speaking with Fast Company, Razer's Singaporean-American CEO Min Liang Tan, who describes himself as a "hands on on pretty much everything" type of leader, explained that with the Razer Blade had to be perfect right down to extending the color scheme to the computer's USB ports.
MicroSD. Secure Digital (SD) is a non-volatile memory card format for use in portable devices, such as mobile phones, digital cameras, GPS navigation devices, and tablet computers.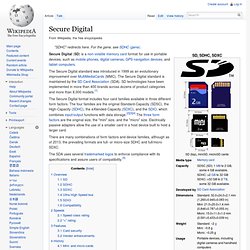 The Secure Digital standard was introduced in 1999 as an evolutionary improvement over MultiMediaCards (MMC). The Secure Digital standard is maintained by the SD Card Association (SDA). SD technologies have been implemented in more than 400 brands across dozens of product categories and more than 8,000 models.[1] The Secure Digital format includes four card families available in three different form factors. The four families are the original Standard-Capacity (SDSC), the High-Capacity (SDHC), the eXtended-Capacity (SDXC), and the SDIO, which combines input/output functions with data storage.[2][3][4] The three form factors are the original size, the "mini" size, and the "micro" size. Official Google Blog.
Gregoiregentil's Channel (youtube) Mac OS X Hints - A community-built collection of OS X hints. Command-line interface. Command-line interfaces to computer operating systems are less widely used by casual computer users, who favor graphical user interfaces.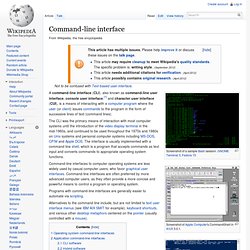 Command-line interfaces are often preferred by more advanced computer users, as they often provide a more concise and powerful means to control a program or operating system. Programs with command-line interfaces are generally easier to automate via scripting. Operating system command-line interfaces[edit] Operating system (OS) command line interfaces are usually distinct programs supplied with the operating system. Application command-line interfaces[edit] Phone Arena - Phone News, Reviews and Specs. Tech tomorrow's Channel (videos) Nokia Users. PCWorld. Tested - We Test It So You Don't Have To. Diy book scanner. World Of Technology.
Security. MakerBot Industries. Steps to Success Every now and then we're reminded 3D printing is not science fiction, but a real technology used every day to make amazing things in homes, studios, schools, and businesses.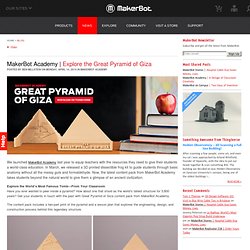 At MakerBot we're proud to be leading this Next Industrial Revolution with the MakerBot 3D Ecosystem, which makes desktop 3D printing and 3D scanning affordable and reliable for everyone, and includes a variety of products and services to help unleash your creativity. One of the newest members of our family is MakerBot Desktop, a complete, free 3D printing solution for discovering, managing, and sharing your 3D prints. As we learned in last week's post on connectivity, MakerBot Desktop was built to access the powerful software capabilities of the new Fifth Generation line of MakerBot Replicator Desktop 3D Printers. This week, we'll take a look at how to use it to go, in just three simple steps, from a 3D design to a 3D print. 1. How Do I Figure Out How Many MegaPixels Are Necessary for Printing a Photo at a Specific Size? The Future According To Films.
European Internet Radio stations guide. Tech Blog for Linux, Windows. Techland - Tech and Gaming News and Reviews - TIME.com. Science & Technology. Electronics. Home Magazine. Tech.
Life Scoop — Tips for a Connected Lifestyle.
The Phone Call Is Dead. Photo © 2008 mike | more info (via: Wylio) In the tech industry saying that something is dead actually means "It's on the decline."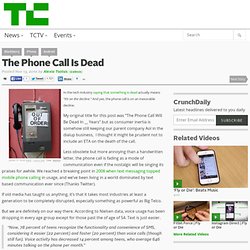 And yes, the phone call is on an inexorable decline. My original title for this post was "The Phone Call Will Be Dead In __ Years" but as consumer inertia is somehow still keeping our parent company Aol in the dialup business, I thought it might be prudent not to include an ETA on the death of the call. Less obsolete but more annoying than a handwritten letter, the phone call is fading as a mode of communication even if the nostalgic will be singing its praises for awhile.
We reached a breaking point in 2008 when text messaging topped mobile phone calling in usage, and we've been living in a world dominated by text based communication ever since (Thanks Twitter). Are you a responsible digital citizen?
---