Restaurant
Cook's Tour | A dining blog with Alison Cook. Piola, a brand-new spot in Midtown, is easily the best-looking and most festive pizza parlor Houston has ever seen: alive with bright-colored pendant lamps that give it a madcap carnival feel, set to a Bollywood-to-R&B sound track.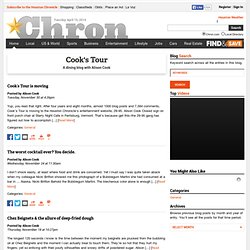 All of which would be neither here nor there if the pizza weren't good. But it is. Alison […] [Read More] Categories: Uncategorized What a difference a matter of months has made in the burgers at Southwell's Hamburger Grill West Holcombe location and Goode Company Taqueria, both of which rated a grade of "D" when I tried them in July and April, respectively. The Turkey Cafe - Granby Street - Leicester - Home. Takeaway Pizza, Chinese or Indian Food - Eat It Now with Online takeaway order. The Almanack Leicester, Leicester. CHOW - Recipes, cooking tips, resources.
Kathika Travel Website. Roadfood.com. Travel Guides, Hotel Reviews, Vacation Ideas, and Trip-Planning Tools. Information Britain. Travel + Leisure Magazine | Vacation guides, travel articles, hotel ...
---