Photoblog
Becky Earl – be ART " We're friends right?
I feel like we are. I'm pretty open with my friends. Open as in, I don't ever feel like I have to hold anything back about who I am. I can be completely honest and still know I will be loved. So since we are friends and all… PhotoFidelity - PhotoFidelity. Thomas Hawk Digital Connection. LightChasers Photography.
Images FPT Hi-5 We didn't blog about the FPT Metro Perfect 10, but we did post quite a few images from that event on our Facebook page .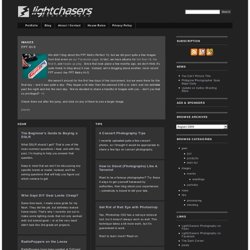 In fact, we have albums for the final 18 , the final 9 , and heads up play . Since that took place a few months ago, we don't think it's quite timely to blog about it now.
---