Muppets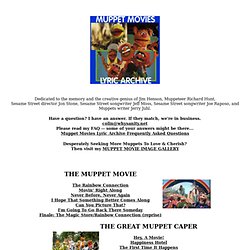 Dedicated to the memory and the creative genius of Jim Henson, Muppeteer Richard Hunt, Sesame Street director Jon Stone, Sesame Street songwriter Jeff Moss, Sesame Street songwriter Joe Raposo, and Muppets writer Jerry Juhl. Have a question? I have an answer.
The Muppet Movies Lyric Archive
Jim Henson began working with puppets as a college student, creating the show Sam and Friends in 1955 for a local Washington, D.C. television station. The energetic Muppets soon became a popular fixture, and led to appearances on national variety shows. Henson's commercials for a local coffee company, Wilkins Coffee, were so popular that he was hired to create similar commercials around the country. In the early 1960s, Henson moved to New York City to work on a variety of projects, including a regular guest spot on The Jimmy Dean Show for the first Muppet star, Rowlf the Dog. In 1969, Henson was invited to participate in a ground-breaking educational show for television, Sesame Street. Initially, the Muppets were meant to be just one element among many on the show -- but the popularity of Big Bird, Oscar the Grouch, Cookie Monster, Grover, Ernie and Bert soon made the Muppets the core of the show.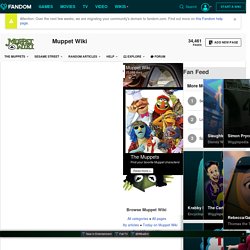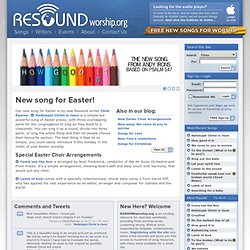 RESOUNDworship
Our new song for Easter is by new Resound writer Chris Pearse. Hallelujah Christ is risen is a simple but powerful song of Easter praise, with three overlapping parts for the congregation to sing as they build to a crescendo. You can sing it as a round, divide into three parts, or sing the whole thing and then let people choose their favourite section. The best thing is that its so simple, you could easily introduce it this Sunday in the midst of your Easter worship.