Lego
Brick Collections
Luke's Weblog
From Bricks To Bothans
Brickfilms.com - Homepage
The Toy Zone — Toy related antics from around the world
Tilted Twister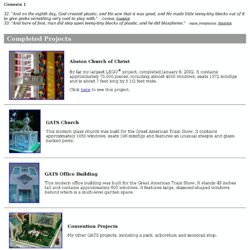 Amy's LEGO Projects
Genesis 1 32. "And on the eighth day, God created plastic, and He saw that it was good, and He made little teeny-tiny blocks out of it to give geeks something very cool to play with."
The Brick Testament
39 Creative Lego Advertisements - Creativty without bricks : Speckyboy Design Magazine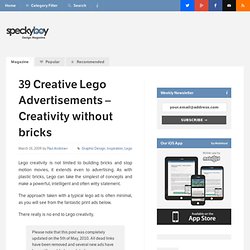 Lego creativity is not limited to building bricks and stop motion movies, it extends even to advertising. As with plastic bricks, Lego can take the simplest of concepts and make a powerful, intelligent and often witty statement. The approach taken with a typical lego ad is often minimal, as you will see from the fantastic print ads below. There really is no end to Lego creativity. Please note that this post was completely updated on the 5th of May, 2010.
LEGO bricks can be assembled and connected in many different ways. Therefore, it is not surprising that some people create original designs from regular LEGO bricks. Today, we feature three amazing LEGO artists: Sean Kenney, Nathan Sawaya and Eric Harshbarger.
Stunning Lego Art