Html
Today . . . design something beautiful Do you love (or just need to know) graphic design? At Before & After, you'll learn how to design Web pages, brochures, presentations, logos, ads, business cards, magazines, business documents, posters, and more — Watch Read Excerpts: Type 1:14 Color :46 Grid :56 Cropping :50 Gestalt :47 Budget 1:14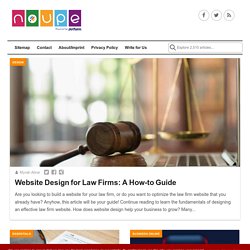 Jan 23 2014 SVG is the new standard for vector images in the browser. Vector editors such as Adobe Illustrator allow to directly save to that format and modern browsers have no problems to properly display SVG. As SVG graphics consist of markup, they can be created and maintained using your favorite text editor, just as you do with your HTML. It is even possible to style SVG with CSS, though you'll need to know about quite a few differences in doing so, compared to styling HTML. Read more
You're really lucky that you got to our site because you can find all sorts of info that you need in your professional life, from top to bottom. We update our site on a daily basis and make sure that the content is of top notch quality. You'll obtain the knowledge and skills that will allow you to charge more for your work because it will be of way higher quality. You can spend that money for going to your favorite resorts or what not. Now let me give you an idea of what you can find here.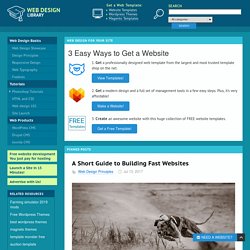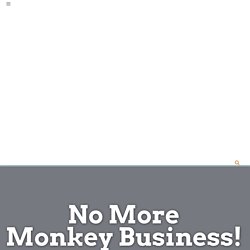 [Editor's note: The following is a guest post from Igor Faletski, CEO of Mobify, which provides tools for adapting web sites for smartphones and tablets.] You've probably heard people say we're living in a "post-PC world." What does that mean for web developers? It means that 30% to 50% of your website's traffic now comes from mobile devices. It means that soon, desktop and laptop users will be in a minority on the web.
Selectors define which part(s) of your (X)HTML document will be affected by the declarations you've specified. Several types of selectors are available in CSS. Note that some of them are not supported in all browsers. Element Selectors The most basic of all selectors is the element selector (you may have heard them called tag selectors).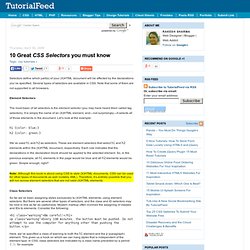 10 Great CSS Selectors you must know
5 Ways to Instantly Write Better CSS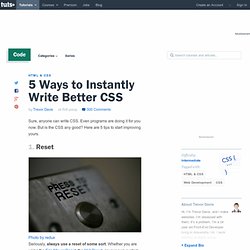 Sure, anyone can write CSS. Even programs are doing it for you now. But is the CSS any good?
Advertisement CSS Sprites are not new. In fact, they are a rather well-established technique and have managed to become common practice in Web development. Of course, CSS sprites are not always necessary, but in some situation they can bring significant advantages and improvements – particularly if you want to reduce your server load.