France
I Prefer Paris. Rococo. Rococo (/rəˈkoʊkoʊ/ or /roʊkəˈkoʊ/), less commonly roccoco, or "Late Baroque", is an 18th-century artistic movement and style, affecting many aspects of the arts including painting, sculpture, architecture, interior design, decoration, literature, music, and theatre.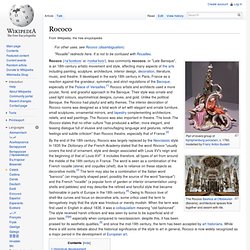 It developed in the early 18th century in Paris, France as a reaction against the grandeur, symmetry, and strict regulations of the Baroque, especially of the Palace of Versailles.[1] Rococo artists and architects used a more jocular, florid, and graceful approach to the Baroque. Their style was ornate and used light colours, asymmetrical designs, curves, and gold. Unlike the political Baroque, the Rococo had playful and witty themes. Henri Matisse. Henri-Émile-Benoît Matisse (French: [ɑ̃ʁi matis]; 31 December 1869 – 3 November 1954) was a French artist, known for his use of colour and his fluid and original draughtsmanship.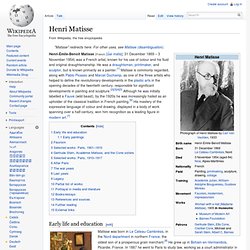 He was a draughtsman, printmaker, and sculptor, but is known primarily as a painter.[1] Matisse is commonly regarded, along with Pablo Picasso and Marcel Duchamp, as one of the three artists who helped to define the revolutionary developments in the plastic arts in the opening decades of the twentieth century, responsible for significant developments in painting and sculpture.[2][3][4][5] Although he was initially labelled a Fauve (wild beast), by the 1920s he was increasingly hailed as an upholder of the classical tradition in French painting.[6] His mastery of the expressive language of colour and drawing, displayed in a body of work spanning over a half-century, won him recognition as a leading figure in modern art.[7] Early life and education[edit]
Edgar Degas. Edgar Degas (French: [ilɛʁ ʒɛʁmɛ̃ ɛdɡɑʁ dəɡɑ]; US /deɪˈɡɑː/ or UK /ˈdeɪɡɑː/); born Hilaire-Germain-Edgar De Gas; (19 July 1834 – 27 September 1917) was a French artist famous for his paintings, sculptures, prints, and drawings.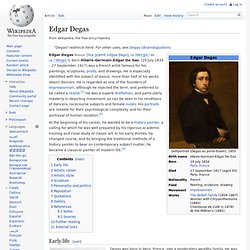 He is especially identified with the subject of dance; more than half of his works depict dancers. He is regarded as one of the founders of Impressionism, although he rejected the term, and preferred to be called a realist.[1] He was a superb draftsman, and particularly masterly in depicting movement, as can be seen in his renditions of dancers, racecourse subjects and female nudes. His portraits are notable for their psychological complexity and for their portrayal of human isolation.[2] Khuong Nguyen ////
---