Exercise
The Training Geek. | Knowing The How's and Why's behind Strength
Jogging
Jogging is a form of trotting or running at a slow or leisurely pace.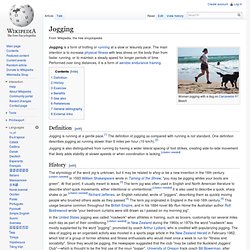 Fitness Riot
5 Miles Past Empty
Absolut(ly) Fit
Current health news articles
National Body Challenge
Your fitness prescription Should you be running, hitting a yoga class or heaving weights? Our planner will help you work out your ideal fitness regime
Fitness
Personal Fitness - how to articles from wikiHow
Fitness - How To Information
Health and Fitness News, Downloads
fitness health zone
Grip strength is the force applied by the hand to pull on or suspend from objects and is a specific part of hand strength . Optimum-sized objects permit the hand to wrap around a cylindrical shape with a diameter from one to three inches. Stair rails are an example of where shape and diameter are critical for proper grip in case of a fall.
Grip strength
All Stomach Muscles Anatomy And Abdominal Muscles Exercises
We all know that lose weight not enough diet, is also sport.
Health Exercise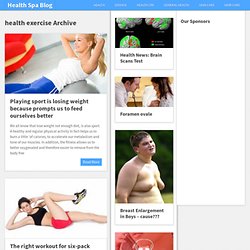 Anaerobic exercise
Anaerobic exercise is exercise intense enough to trigger anaerobic metabolism . It is used by athletes in non-endurance sports to promote strength, speed and power and by body builders to build muscle mass. Muscle energy systems trained using anaerobic exercise develop differently compared to aerobic exercise , leading to greater performance in short duration, high intensity activities, which last from mere seconds to up to about 2 minutes. [ 1 ] [ 2 ] Any activity lasting longer than about two minutes has a large aerobic metabolic component. [ citation needed ]
Stretching is a form of physical exercise in which a specific muscle or tendon (or muscle group) is deliberately flexed or stretched in order to improve the muscle's felt elasticity and achieve comfortable muscle tone . [ 1 ] The result is a feeling of increased muscle control, flexibility and range of motion.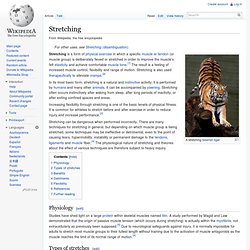 Stretching
Chicago Health News: health news, healthy living and fitness
Abs | Abs Exercises | Abs Workouts | Men's Fitness UK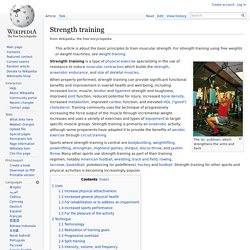 Resistance training
Strength training is a type of physical exercise specializing in the use of resistance to induce muscular contraction which builds the strength , anaerobic endurance , and size of skeletal muscles .
Fitness - Life & Style - theage.com.au
Exercise - Life & Style - theage.com.au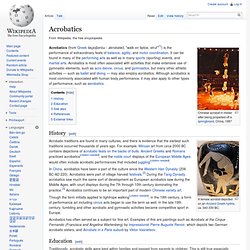 Acrobatics
Acrobatics (from Greek ἀκροβατέω - akrobateō , "walk on tiptoe, strut" [ 1 ] ) is the performance of extraordinary feats of balance , agility , and motor coordination .