Drive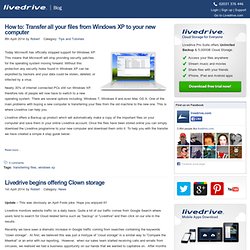 How can Livedrive help you achieve your New Year's Resolutions? Each year millions of people set New Year's Resolutions. I'm going to lose weight, stop smoking, get organised, be less stressed, or save more money. However 80% of the people who set Resolutions do not achieve them.
The Official Livedrive Blog
Trident - Home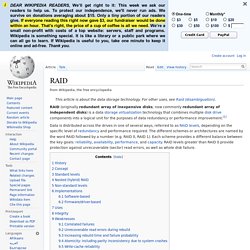 RAID
History Each of the five levels of RAID named in the paper were well established in the art prior to the paper's publications, for example: Around 1983, DEC began shipping subsystem mirrored RA8X disk drives (now known as RAID 1) as part of its HSC50 subsystem.[6]Around 1988, the Thinking Machines DataVault used error correction codes (now known as RAID 2) in an array of disk drives.[7] A similar approach was used in 1970s on the IBM 3330.[8]In 1977, Norman Ken Ouchi at IBM filed a patent disclosing what was subsequently named RAID 4.[9]In 1986, Clark et al. at IBM filed a patent disclosing what was subsequently named RAID 5.[10] Standard levels A number of standard schemes have evolved. These are called levels.
About WD|Where to Buy|Partners|Corporate News|Investors|WD Social|WD Community|Language Desktop DrivesDesktop Drives for MacPortable DrivesPortable Drives for MacPersonal Cloud StorageWD SmartWareBackup SolutionsStorage for TabletsRugged CaseProduct SelectorList of ProductsShop for Accessories My CloudMy Cloud EX4List of Products WD TV Media PlayersMultimedia DrivesDVR ExpanderTV StoragePortable Media DrivesList of Products Network Storage SolutionsNetwork Backup SolutionsWD Guardian ServicesWindows To Go Storage Desktop/WorkstationMobileNASDatacenterCE/AVInternal Drive KitsInternal Product ListShop for Accessories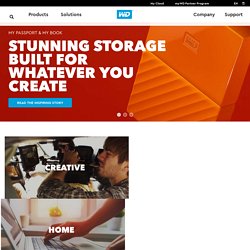 Encyclopodia - the encyclopedia on your iPod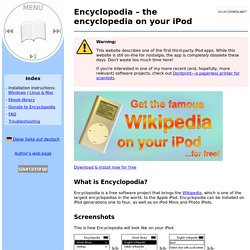 Download & Install now for free What is Encyclopodia? Encyclopodia is a free software project that brings the Wikipedia, which is one of the largest encyclopedias in the world, to the Apple iPod.