Bizarre
Bizarre Bytes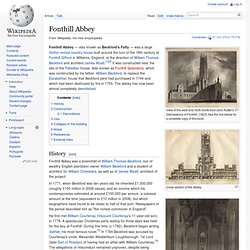 View of the west and north fronts from John Rutter's Delineations of Fonthill . (1823) See the link below for a complete copy of this book. Cross section of the Abbey The hall of Fonthill Abbey in Wiltshire, England from John Rutter's Delineations of Fonthill (1823) Fonthill Abbey — also known as Beckford's Folly — was a large Gothic revival country house built around the turn of the 19th century at Fonthill Gifford in Wiltshire , England , at the direction of William Thomas Beckford and architect James Wyatt . [ 1 ] [ 2 ] It was constructed near the site of the Palladian house, later known as Fonthill Splendens , which was constructed by his father, William Beckford , to replace the Elizabethan house that Beckford père had purchased in 1744 and which had been destroyed by fire in 1755.
Fonthill Abbey
Wacky Owl - Strange and Weird Stuff
Sooth Brush
IncredibleWorld.net - IncredibleWorld – Odd and Bizarre news and photos ...
Stella's Magazine
Ben Weiner
Crystal Kiss
I Heart Guts!
deputydog
Pointless but cool
Ananova - www.ananova.com