Artist
Murdoch Art Studio
Mary Horgan's paintings demonstrate a love of life and light and colour. They celebrate the subject and the act of painting - joy and skill that invite the eye to regard afresh both painted object and painting action. She has had shows in the Lavit Gallery, the Private Collectors Gallery and the Guinness Gallery in Ireland - in France at La Galerie du Chevalier, Carcassonne. Current work can be seen at Le Cerf Gris, a residential art centre where she teaches six-day holiday courses in landscape painting, and still life painting. For further information on dates, cost and availability visit www.ArtHoliday.com
Andalucia paintings,
Bev Howe Paintings
welcome to jaggedart.com
Hyatt Moore - Painter
Original Fine Art From Around The World Thank you for visiting our website. The Weatherburn Gallery is one of the largest fine art galleries in southwest Florida exhibiting dozens of exceptional works of art by leading painters and sculptors from around the world. Many of our artists enjoy national and international reputations, are award-winning members of prestigious arts organizations, and have their original works in government, corporate, museum, celebrity or private collections worldwide. This 2009 season, for example, we're proud to add two particularly distinguished artists to our collection, the master Realist Mark Thompson and the brilliantly gifted Impressionist Ken Cadwallader both of whom have enviable national reputations.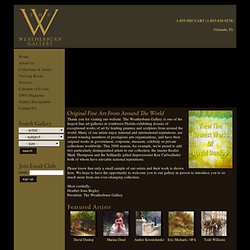 Naples Art Gallery - Largest Fine Art Gallery in Southwest Florida
douglas simpson
Steve Cozart, Artist
Fine Art Nature Photography of Flower Photos and Landscape Photographs
scott hovind
Robert Hemphill
Frederic Leighton, 1st Baron Leighton PRA (3 December 1830 – 25 January 1896), known as Sir Frederic Leighton between 1878 and 1896, was an English painter and sculptor. His works depicted historical, biblical and classical subject matter. Leighton was bearer of the shortest-lived peerage in history; after only one day his hereditary peerage ended with his death.[1] Biography[edit] Leighton was born in Scarborough to a family in the import and export business.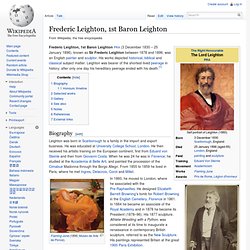 Frederick Leighton
thea van herpt
I am a Russian born, Berkshire based fine artist and I graduated with an honours degree in Fine Art Practices from Plymouth College of Art in July 2010. I exhibit my paintings in London and across the South West of England . They can be found in private collections in Russia, Norway and in the UK. I am a member of DAN (Devon Artist Network) and DAS (Devon Art Society) since 2010. I have also recently been accepted by the Reading Guild of Artists and United Society of Artists in London. More information about work in progress and stories behind my paintings can be found in my blog.
Artist Diana Davydova
Sally is painting today...
Eclectic Studio
If you love scrapbooking, paper arts or mono printing you will love gelatin printing. These pretty papers were created using a homemade permenant gelatin plate (you tube has a few videos and recipes for these) but you can also purchase a ready made Gell Printing Plate from amazon or local crafting stores. These prints can be used in so many ways, from creating cards and tags to backgrounds in art journals or mixed media pieces, and because you are in essence mono-printing no 2 papers will ever look the same. These were created using hand cut stencils/stamps and basic craft paint.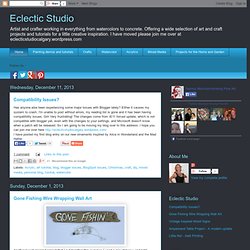 Original Modern Art by Laura Barbosa
Barbara Florczyk a.k.a. Kokoszkaa comes from Poland and creates amazing photo manipulations from different sources. For more art from Kokoszkaa check out: http://kokoszkaa.deviantart.com/ Like this: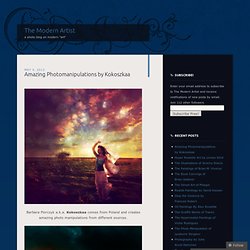 The Modern Artist
Claude Monet | Works of Art and Life of Impressionist Painter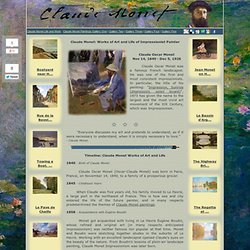 Claude Oscar MonetNov 14, 1840 - Dec 5, 1926 Claude Oscar Monet was a famous French landscapist. He was one of the first and most consistent impressionists. In particular, the title of his painting: "Impression, Sunrise (Impression, soleil levant)", 1873 has given the name to the largest and the most vivid art movement of the XIX Century, which was Impressionism. "Everyone discusses my art and pretends to understand, as if it were necessary to understand, when it is simply necessary to love.
Jan van Eyck or Johannes de Eyck (before c. 1395 - before July 9, 1441) was an Early Netherlandish painter active in Bruges and considered one of the best Northern European painters of the 15th century. There is a common misconception, which dates back to the sixteenth-century Vite of the Tuscan artist and biographer Giorgio Vasari, that Jan van Eyck invented oil painting. It is however true that he achieved, or perfected, new and remarkable effects using this technique.
Jan Van Eyck - The complete works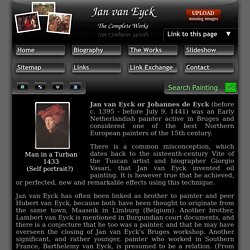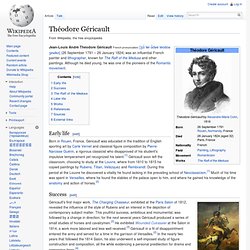 Jean-Louis André Théodore Géricault French pronunciation: ​[ʒɑ̃ lwi ɑ̃dʁe teodoʁ ʒeʁiko] (26 September 1791 – 26 January 1824) was an influential French painter and lithographer, known for The Raft of the Medusa and other paintings. Although he died young, he was one of the pioneers of the Romantic movement. Early life[edit] Success[edit]
Théodore Géricault
François Boucher
Portrait of Marie-Jeanne Buzeau (1716-1796) by Alexander Roslin. Boucher married Buzeau in 1733 and they had three children together. François Boucher (French pronunciation: ​[fʁɑ̃swa buʃe]) (29 September 1703 – 30 May 1770) was a French painter in the Rococo style. Boucher is known for his idyllic and voluptuous paintings on classical themes, decorative allegories, and pastoral scenes. He was perhaps the most celebrated decorative artist of the 18th century. He also painted several portraits of his patroness, Madame de Pompadour.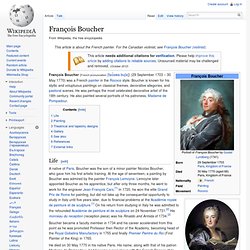 painting gallery
The art of Terje Adler Mørk
botticelli
Early life[edit] By 1470, Botticelli had his own workshop. Even at this early date, his work was characterized by a conception of the figure as if seen in low relief, drawn with clear contours, and minimizing strong contrasts of light and shadow which would indicate fully modeled forms. Maturity[edit]
Gh Bronze Studio
Painting is the practice of applying paint, pigment, color or other medium[1] to a surface (support base). The medium is commonly applied to the base with a brush but other implements, such as knives, sponges, and airbrushes, can be used. Paintings may have for their support such surfaces as walls, paper, canvas, wood, glass, lacquer, clay, leaf, copper or concrete, and may incorporate multiple other materials including sand, clay, paper, gold leaf as well as objects. In art, the term painting describes both the act and the result of the action. However, the term is also used outside of art as a common trade among craftsmen and builders.
Martha Sharp Original Oil Paintings
Caitlin Karolczak - Painting, Portraiture, Illustration
Vilhelm Hammershøi
Virtual Gallery of Leonardo Da Vinci
Art, artists and exhibitions. Artists can sign up for a free online gallery.
Welcome to Art of England Magazine - the Definitive Guide to Art in the UK
Welcome to ArtShop7 - The online gallery and shop!
Stefan Beyst Website
Portrait
Portrait Photography: Photo.net article