Artist
Website for Precision Realist Artist Mary Ellen Johnson. Artists. Art History: Caravaggio. Art History: David. Cass Sculpture Foundation | 21ST CENTURY BRITISH SCULPTURE. Welcome :: John William Waterhouse :: johnwilliamwaterhouse.com. Marion Peck.
ARTIST AND PHOTOGRAPHY WEBSITES | ArtDealers.com. History of Art. Sumo Paint :: Online Image Editor :: Home. Art History: Caravaggio. 1920's - Bauhaus + De Stijl. Ron Mueck.
Sculpture. Murdoch Art Studio. Andalucia paintings, Art Collections around the world. Art History: 3 Nudes. Art History: David. Welcome to jaggedart.com. Hyatt Moore - Painter. Naples Art Gallery - Largest Fine Art Gallery in Southwest Florida. Douglas simpson. Steve Cozart, Artist. Fine Art Nature Photography of Flower Photos and Landscape Photographs. Scott hovind. Robert Hemphill. Frederick Leighton. Frederic Leighton, 1st Baron Leighton PRA (3 December 1830 – 25 January 1896), known as Sir Frederic Leighton between 1878 and 1896, was an English painter and sculptor.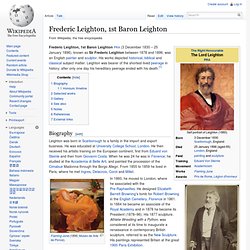 His works depicted historical, biblical and classical subject matter. Leighton was bearer of the shortest-lived peerage in history; after only one day his hereditary peerage ended with his death.[1] Biography[edit] Leighton was born in Scarborough to a family in the import and export business. Thea van herpt. Artist Diana Davydova. Sally is painting today... Eclectic Studio. Original Modern Art by Laura Barbosa. The Modern Artist. Claude Monet | Works of Art and Life of Impressionist Painter. Jan Van Eyck - The complete works. Théodore Géricault. Jean-Louis André Théodore Géricault French pronunciation: ​[ʒɑ̃ lwi ɑ̃dʁe teodoʁ ʒeʁiko] (26 September 1791 – 26 January 1824) was an influential French painter and lithographer, known for The Raft of the Medusa and other paintings.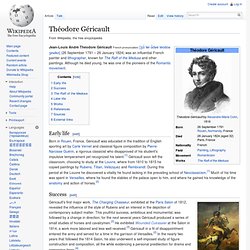 Although he died young, he was one of the pioneers of the Romantic movement. Early life[edit] Success[edit] François Boucher. Portrait of Marie-Jeanne Buzeau (1716-1796) by Alexander Roslin.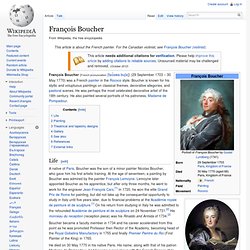 Boucher married Buzeau in 1733 and they had three children together. François Boucher (French pronunciation: ​[fʁɑ̃swa buʃe]) (29 September 1703 – 30 May 1770) was a French painter in the Rococo style. Boucher is known for his idyllic and voluptuous paintings on classical themes, decorative allegories, and pastoral scenes. He was perhaps the most celebrated decorative artist of the 18th century. He also painted several portraits of his patroness, Madame de Pompadour. Painting gallery. The art of Terje Adler Mørk. Botticelli. Early life[edit] By 1470, Botticelli had his own workshop.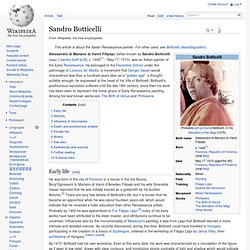 Even at this early date, his work was characterized by a conception of the figure as if seen in low relief, drawn with clear contours, and minimizing strong contrasts of light and shadow which would indicate fully modeled forms. Maturity[edit] Painting. Painting is the practice of applying paint, pigment, color or other medium[1] to a surface (support base).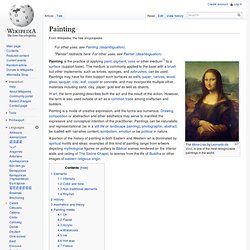 The medium is commonly applied to the base with a brush but other implements, such as knives, sponges, and airbrushes, can be used. Paintings may have for their support such surfaces as walls, paper, canvas, wood, glass, lacquer, clay, leaf, copper or concrete, and may incorporate multiple other materials including sand, clay, paper, gold leaf as well as objects. In art, the term painting describes both the act and the result of the action. However, the term is also used outside of art as a common trade among craftsmen and builders. Martha Sharp Original Oil Paintings. Caitlin Karolczak - Painting, Portraiture, Illustration. Vilhelm Hammershøi. Self-portrait, 1895 Interior with Young Woman from Behind (1904) Vilhelm Hammershøi ( pronunciation ), often written in English Vilhelm Hammershoi (15 May 1864 – 13 February 1916), was a Danish painter.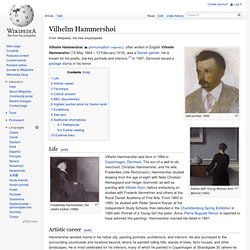 He is known for his poetic, low-key portraits and interiors.[1] In 1997, Denmark issued a postage stamp in his honor. Virtual Gallery of Leonardo Da Vinci. Art, artists and exhibitions. Artists can sign up for a free online gallery. Welcome to Art of England Magazine - the Definitive Guide to Art in the UK. Stefan Beyst Website. Portrait. History[edit] Some of the earliest surviving painted portraits of people, who were not kings or emperors, are the funeral portraits that survived in the dry climate of Egypt's Fayum district.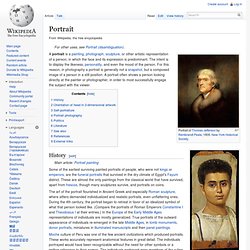 These are almost the only paintings from the classical world that have survived, apart from frescos, though many sculptures survive, and portraits on coins. They were represented during several stages of their lives. The faces of gods were also depicted. To date, no portraits of women have been found.
---