Japan
fűszerkalauz - Japán ízvilág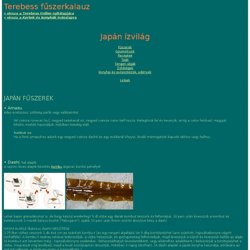 Terebess fűszerkalauz « vissza a Terebess Online nyitólapjára « vissza a Kertek és konyhák indexlapra Japán ízvilág Fűszerek Gyümölcsök Receptek Teák Tengeri algák Zöldségek Konyhai és evőeszközök, edények Linkek
Mijazaki Hajao, a japán Walt Disney (2. rész)
Hayao Miyazaki ( 宮崎 駿 , Miyazaki Hayao ? , born January 5, 1941 [ 1 ] ) is a Japanese film director , animator , manga artist , producer , and screenwriter . Through a career that has spanned over fifty years, Miyazaki has attained international acclaim as a maker of anime feature films and, along with Isao Takahata , co-founded Studio Ghibli , a film and animation studio . The success of Miyazaki's films has invited comparisons with American animator Walt Disney , British animator Nick Park and American director Robert Zemeckis . [ 2 ] Born in Bunkyō, Tokyo , Miyazaki began his animation career in 1961, when he joined Toei Animation .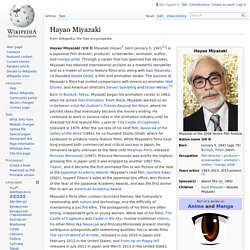 Isao Takahata ( 高畑 勲 , Takahata Isao ? , born October 29, 1935) is a Japanese film director , animator , screenwriter and producer that has earned critical international acclaim for his work as a director of anime films. Takahata is co-founder of Studio Ghibli with long-time collaborative partner Hayao Miyazaki . He has directed films such as the war-themed Grave of the Fireflies , the romantic-drama Only Yesterday , the ecological-adventure Pom Poko and the comedy My Neighbors the Yamadas .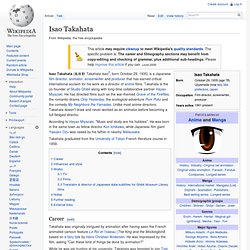 Isao Takahata
House of Councillors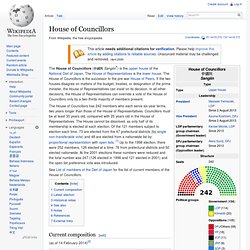 Coordinates : The House of Councillors ( 参議院 , Sangiin ? ) is the upper house of the National Diet of Japan .
This article lists political parties in Japan . Note: National Diet membership as of December 18, 2012. [ 1 ] [ 2 ] The Diet is scheduled to convene on December 26, 2012; by then individual members may have changed party affiliation. [ edit ] Major parties [ edit ] Third parties currently represented in the national Diet Legal status as political party ( seitō ) is tied to having five members in the Diet or at least two percent nationally of either proportional or local vote in the last Representatives or one of the last two Councillors elections.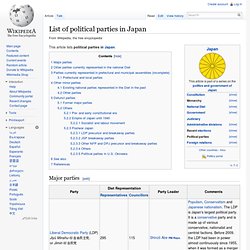 List of political parties in Japan
Imperial Standard of the Emperor The List of Emperors of Japan presents the traditional order of succession. [ 1 ] Records of the reigns of the Emperors of Japan are compiled according to the traditional Japanese calendar . In the nengō system which has been in use since the late-7th century, years are numbered using the Japanese era name and the number of years which have taken place since that nengō era started. [ 2 ] The sequence, order and dates of the first 28 Emperors of Japan , and especially the first 16, are based on the Japanese Calendar system. [ 3 ] [ edit ] Emperors of Japan (660 BC–present) [ edit ] Notes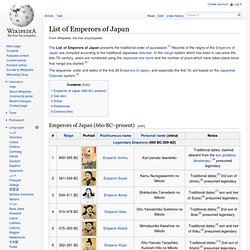 List of Japanese monarchs