Japan
Fűszerkalauz - Japán ízvilág. Terebess fűszerkalauz « vissza a Terebess Online nyitólapjára « vissza a Kertek és konyhák indexlapra Japán ízvilág Fűszerek Gyümölcsök Receptek Teák Tengeri algák Zöldségek Konyhai és evőeszközök, edények Linkek.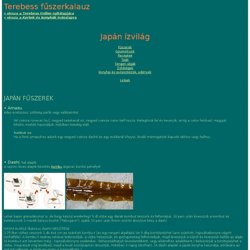 Mijazaki Hajao, a japán Walt Disney (2. rész) Hayao Miyazaki. Hayao Miyazaki (宮崎 駿, Miyazaki Hayao?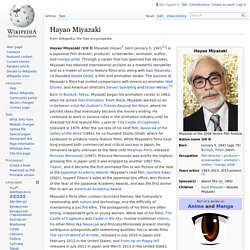 , born January 5, 1941[1]) is a Japanese film director, animator, manga artist, illustrator, producer, and screenwriter. Through a career that has spanned six decades, Miyazaki has attained international acclaim as a maker of anime feature films and, along with Isao Takahata, co-founded Studio Ghibli, a film and animation studio. The success of Miyazaki's films has invited comparisons with American animator Walt Disney, British animator Nick Park, and American director Steven Spielberg.[2] In addition to his acclaimed film work, Miyazaki has created manga that have reached worldwide audiences. Isao Takahata. According to Hayao Miyazaki, "Music and study are his hobbies".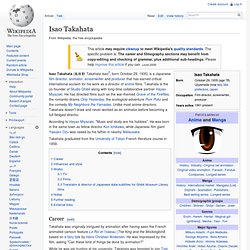 He was born in the same town as fellow director Kon Ichikawa, while Japanese film giant Yasujiro Ozu was raised by his father in nearby Matsusaka. Takahata graduated from the University of Tokyo French literature course in 1959. Career[edit] House of Councillors. Coordinates: The House of Councillors has 242 members who each serve six-year terms, two years longer than those of the House of Representatives.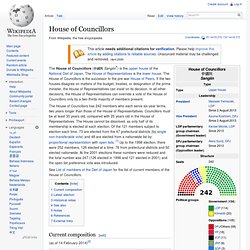 Councillors must be at least 30 years old, compared with 25 years old in the House of Representatives. List of political parties in Japan. This article lists political parties in Japan.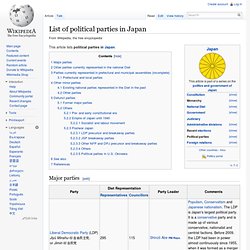 Major parties[edit] Other parties currently represented in the national Diet[edit] Legal status as political party (seitō) is tied to having five members in the Diet or at least two percent nationally of either proportional or local vote in the last Representatives or one of the last two Councillors elections. Political parties receive public party funding (¥ 250 per citizen, about ¥ 32 bill. in total per fiscal year, distributed according to recent national elections results – last HR general and last two HC regular elections – and Diet strength on January 1), are allowed to concurrently nominate candidates for the House of Representatives in an electoral district and on a proportional list, may take political donations from legal persons, i.e. corporations, and other benefits such as air time on public broadcaster NHK.[2] List of Japanese monarchs. The List of Emperors of Japan presents the traditional order of succession.[1] Records of the reigns of the Emperors of Japan are compiled according to the traditional Japanese calendar.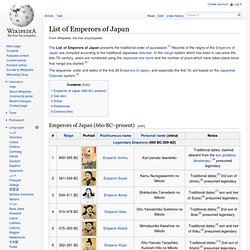 In the nengō system which has been in use since the late-7th century, years are numbered using the Japanese era name and the number of years which have taken place since that nengō era started.[2] The sequence, order and dates of the first 28 Emperors of Japan, and especially the first 16, are based on the Japanese Calendar system.[3] Emperors of Japan (660 BC–present)[edit] See also[edit] Notes[edit] The Samurai Archives Japanese History Page.
---