Anti-islam
Francaisdefrance's Blog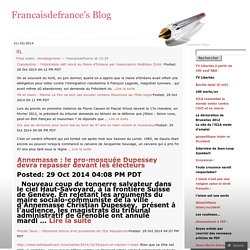 A lire sur Poste de Veille, un excellent article d'Hélios d'Alexandrie, pour y voir un peu plus clair dans la situation mondiale et comprendre la conquête islamique. Voici par exemple un extrait du début, plus qu'intéressant… Avec le retroscope il nous est possible d'affirmer que la situation actuelle était prévisible mais qu'elle n'a pas été prévue. Les nuages ont commencé à s'accumuler dès la première crise pétrolière en 1973, en même temps que la guerre du Yom Kippur, déclenchée par l'Égypte et la Syrie contre Israël le 6 octobre de la même année.
Voyage chez les ultras de la laïcité islamoph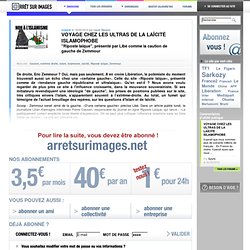 De droite, Eric Zemmour ? Oui, mais pas seulement. A en croire Libération, le polémiste du moment trouverait aussi un écho chez une «certaine gauche». Celle du site «Riposte laïque», présenté comme de «tendance gauche républicaine et ultralaïque».
Le site Riposte laïque pourrait rester un phénomène marginal. Mais il est peut-être, au contraire, annonciateur de recompositions inattendues. Ses animateurs ne sont pour l'instant qu'une poignée, anciens militants d'extrême-gauche, ou féministes, que leur fibre ultra-laïque, et leur allergie à l'Islam, ont amenés jusqu'aux lisières de l'extrême-droite. Ils animent, donc, le site Riposte laïque, dont nous vous faisions une description dans un article récent. Etrange site, étrange mouvance, qui rappelleront forcément quelques mémorables trajectoires politiques d'avant-guerre, de la gauche à l'extrême-droite.
Ultra laïcs : un billet vers le Front Nationa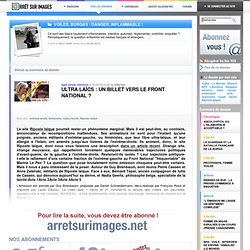 Ten Percent of Muslims Call for Niqabs or Burqas by Daniel Pipes • January 11, 2014 A survey conducted in seven Muslim-majority countries (Tunisia, Egypt, Lebanon, Turkey, Saudi Arabia, Iraq, and Pakistan) finds that a median of 10 percent of the respondents prefer women to wear either a niqab (#2) or burqa (#1) when in public. The specific country figures range enormously, from 74 percent approval of these two garments in Saudi Arabia and 35 percent in Pakistan to 3 percent in Lebanon and Tunisia and just 2 percent in Turkey. Woman #4, whose hair and ears are covered by an amira, was far and away, deemed the most appropriately dressed for appearing in public, with 44 percent of the vote, followed in a distant second place by the lighter hijab of woman #5 at 12 percent.