JQuery
Get flash to fully experience Pearltrees
JQuery Animation & Effects
Do you need Frontend/Javascript/jQuery help with your project? I'm looking for new freelance gigs! Please send me a email to contact@mustardamus.com .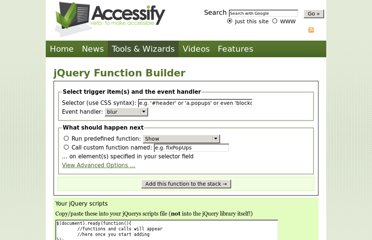 Confused by jQuery syntax?
HTTP is a stateless protocol, which means that every request you make to a website is standalone and therefore cannot keep data by itself.
In this tutorial we are using jQuery and the new transformation features brought by CSS3 to create a three dimensional dynamic slider effect.
Today we will show you how to create an online application for giving some funny touches to an image. We will be using jQuery and jQuery UI for dragging and resizing little bling elements like mustaches and glasses.
Mar 24 2010