JQuery UI & Widgets
45 jQuery Navigation Plugins and Tutorials. Jan 25 2010 By Paul Andrew As many of us know, the initial 15-20 seconds of a new user's visit to a web site will have a large impact on whether on not they are going to like or dislike the site, prompting them to decide whether they will stay or go.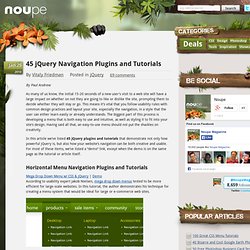 This means it's vital that you follow usability rules with common design practices and layout your site, especially the navigation, in a style that the user can either learn easily or already understands. The biggest part of this process is developing a menu that is both easy to use and intuitive, as well as styling it to fit into your site's design. 10 jQuery Plugins for Easier Google Map Installation - Speckyboy. At first glance the Google Map API may seem scary, I mean, were do you possibly start?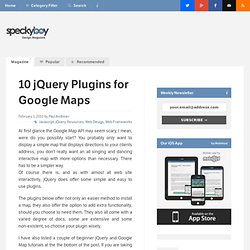 You probably only want to display a simple map that displays directions to your clients address, you don't really want an all singing and dancing interactive map with more options than necessary. There has to be a simpler way. Of course there is, and as with almost all web site interactivity, jQuery does offer some simple and easy to use plugins.
The plugins below offer not only an easier method to install a map, they also offer the option to add extra functionality, should you choose to need them. They also all come with a varied degree of docs, some are extensive and some non-existent, so choose your plugin wisely. FancyPlayer – jQuery Fancybox and Flowplayer Integration | jQuer. 30 Best jQuery plugins inspired from Twitter and Facebook | Psde. Published on Sat, Feb-06-2010 by Dainis jQuery is a fast and concise JavaScript Library that simplifies HTML document traversing, event handling, animating, and Ajax interactions for rapid web development. jQuery plugins are an integral part of modern web design. jQuery plugins gives web designers a wide range of activities and opportunities to develop a wide range of variation effects to your websites.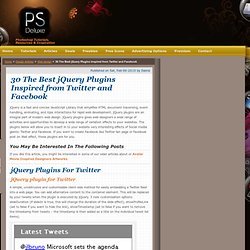 The plugins below will allow you to insert in to your website very interesting effects of Social media giants: Twitter and Facebook. jQuery Quicksand plugin. Quicksand Reorder and filter items with a nice shuffling animation.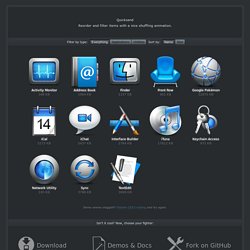 Activity Monitor 348 KB Address Book1904 KB Finder 1337 KB Front Row 401 KB Google Pokémon 12875 KB iCal 5273 KB iChat 5437 KB Interface Builder 2764 KB iTuna 17612 KB Keychain Access 972 KB Network Utility 245 KB Sync 3788 KB TextEdit 1669 KB. Making a Photoshoot Effect With jQuery & CSS – Tutorialzine. Martin Angelov Often, in your design or development tasks, you are presented with challenges that require a different approach than just plunging head over heels in coding.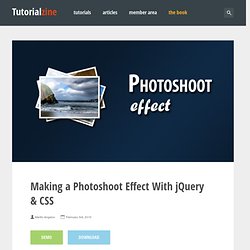 Research and experiments are a vital part of this process. This is why this week's tutorial is structured in a slightly different manner than usual. First we are presented with the main problems faced and their solutions, and after this we get round to building upon it. Programming Tips & Tricks: "Vertical Tabs" for jQuery lovers! Hello folks, Well, I was just wondering how to start this post and how to write words worth a thousand pictures.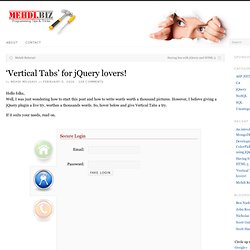 However, I believe giving a jQuery plugin a live try, worthes a thousands words. So, hover below and give Vertical Tabs a try. If it suits your needs, read on. Welcome Home! Skyrocket Labs | Web site design, development, blogging, social. A jQuery Plugin for Zoomable, Interactive Maps. What is it and why was it built?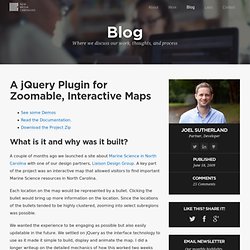 A couple of months ago we launched a site about Marine Science in North Carolina with one of our design partners, Liaison Design Group. A key part of the project was an interactive map that allowed visitors to find important Marine Science resources in North Carolina. Each location on the map would be represented by a bullet. Clicking the bullet would bring up more information on the location.
Since the locations of the bullets tended to be highly clustered, zooming into select subregions was possible. "Who Is Online" Widget With PHP, MySQL & jQuery – Tutorialzine. Martin Angelov For this week's tutorial, we are taking a look at our ever-so-interesting inbox.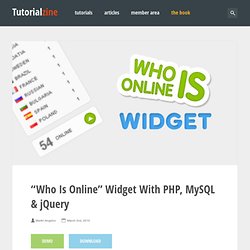 It all started with a letter from one of our readers a couple of weeks ago: My boss is always coming into my office asking me to install things on our client's sites. ColorRating: Ajax and PHP 5-Star Rating Script. A Zoomable jQuery Image Gallery Called jPhotoGrid. View the Demo | Download the Zip The screenshot above is jPhotoGrid in action.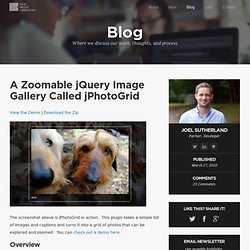 This plugin takes a simple list of images and captions and turns it into a grid of photos that can be explored and zoomed. You can check out a demo here. Grid Accordion with jQuery. Accordions are a UI pattern where you click on a title (in a vertical stack of titles) and a panel of content reveals itself below.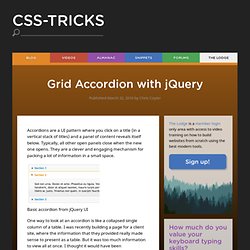 Typically, all other open panels close when the new one opens. They are a clever and engaging mechanism for packing a lot of information in a small space. Basic accordion from jQuery UI One way to look at an accordion is like a collapsed single column of a table. Nivo Slider - The Most Awesome jQuery Image Slider. jQuery & WordPress Image Slider The Nivo Slider is world renowned as the most beautiful and easy to use slider on the market. The jQuery plugin is completely free and totally open source, and there is literally no better way to make your website look totally stunning. If you don't believe us, check out the list of features below and you soon will. jQuery Plugin: Give Your Characters a NobleCount « The Product G. NobleCount… for a more 'proper' count of the characters remaining. A very common requirement with many of the more social products of the various companies I work with is the dynamic display of the number of characters remaining in a textarea, Twitter-style.
When implemented, every one of these companies either developed a simple solution in-house or found a re-usable front-end plugin online. Most common, implemented within these products, and of all I could find open-sourced online, were sources lacking customization and/or, almost universally, lacking the desired user experience – updating the character count AFTER all or most of the user's typing had ceased. Ntactable | jQuery Plugin. Demo | jQuery.popeye 2.0 | an inline lightbox alternative.
X Note: To see the full potential of CSS3 styling (shadows, gradients, rounded corners, alpha transparency), please view this page in a modern webkit or mozilla browser (Firefox 3.5+, Safari 4, Opera 10.50, Chrome 4). Other browsers will degrade gracefully. Create Micro Image Galleries Easily With jQuery. The usage of images in web pages is sometimes difficult as, in order to keep the story going, we may need to keep the content/image ratio at a specific level. However, more images are always good to define and support the content better. Micro Image Gallery is a jQuery plugin which can help solving this issue by displaying multiple images in limited spaces easily. It simply transforms a list of images into a micro gallery that supports switching between a grid view (preview of images) and a single view. jQuery Plugin: jQuery-Notes 1.0.5.
---