Content, Conversion & SEO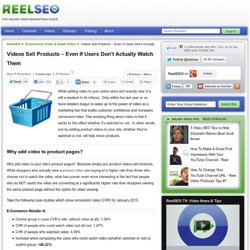 While adding video to your online store isn't exactly new, it is still a medium in its infancy. Only within the last year or so have retailers begun to wake up to the power of video as a marketing tool that builds customer confidence and increases conversion rates. The amazing thing about video is that it works to this effect whether it's watched or not. In other words, just by adding product videos to your site, whether they're watched or not, will help move products. Why add video to product pages?
Videos Sell Products – Even if Users Don't Actually Watch them
A/B Test Case Study: Single Page vs. Multi-Step Checkout | Get E
This post is contributed by Janis Lanka ( @janislanka , who manages front-end development for Elastic Path Software . A little while back, I wrote on Elastic Path's Grep Community blog about our decision to change to a two-page checkout process . We piloted this checkout process on the Hockey Canada Store with the main goals being to reduce abandonment and to increase conversion. The results were extremely positive, but we weren't content to sit on our laurels. So when we started re-working the Official Vancouver 2010 Olympic Store , we challenged ourselves to take it to the next level — and we cut the checkout process down to just single page.
SEO_Web_Developer_Cheat_Sheet.pdf (application/pdf Object)
Your Week Ahead - Love Focus: Want some advice? Actually, I bet you don't. I bet you have had it up to here with well-intentioned individuals steering you this way and that. You can't, though, be entirely sick of suggestions or you wouldn't ...
55 Twitter tips - myBIZ