Windows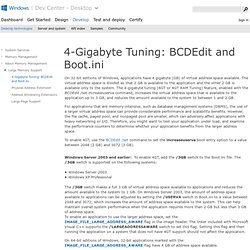 4-Gigabyte Tuning (Windows)
On 32-bit editions of Windows, applications have 4 gigabyte (GB) of virtual address space available. The virtual address space is divided so that 2 GB is available to the application and the other 2 GB is available only to the system. The 4-gigabyte tuning (4GT) feature, formerly called 4GT RAM Tuning, increases the virtual address space that is available to the application up to 3 GB, and reduces the amount available to the system to between 1 and 2 GB. For applications that are memory-intensive, such as database management systems (DBMS), the use of a larger virtual address space can provide considerable performance and scalability benefits. However, the file cache, paged pool, and nonpaged pool are smaller, which can adversely affect applications with heavy networking or I/O. Therefore, you might want to test your application under load, and examine the performance counters to determine whether your application benefits from the larger address space.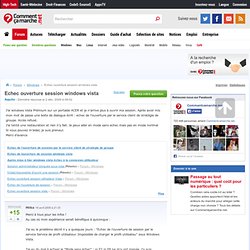 Merci à tous pour les infos ! Au cas où mon expérience serait bénéfique à quiconque :
Echec ouverture session windows vista | CommentCaMarche
La gestion de la mémoire sous Windows 7 ( Vista SP2 ) Windows 7, tout comme Vista peut reconnaître l'installation de vos 4 Go de mémoire, seulement en pratique, il ne pourra utiliser réellement que plus ou moins 3, 2 Go de Ram, le reste étant réservé aux périphériques MMIO.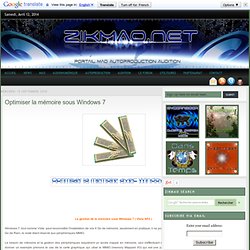 Optimiser la mémoire sous Windows 7 ~ www.zikmao.net
WMPSideShowGadget.exe - what's that?
WMPsideshowgadget.exe is running because you have Logitech G15 keyboard. If you wand disable it, go to Control Panel -> Windows SideShow and disable Logitech items (and every else if you want disable that process). I have also disabled every scheduled SideShow task. And from gpedit.msc i disabled whole SideShow. But really it's enought that you disable those item via control panel. I can't now remember how i disable WMPlayer.exe.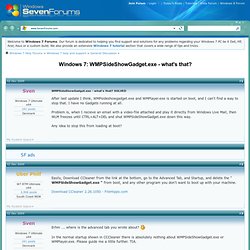 Installing AppLocale in Windows 7 | [Blog] Wentoday...
=======================Please read this additional material if you need:Running Non-English Software on Your English Version of Windows 7 (or Others) Installing AppLocale in Retail Version of Windows 7 64bit It's been several weeks since I installed a pre-release version of Windows 7 in my home computer.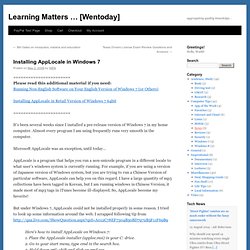 gérer la mémoire virtuelle pour optimiser windows 7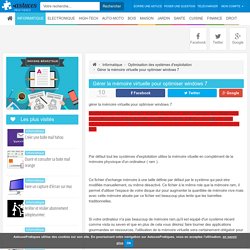 gérer la mémoire virtuelle pour optimiser windows 7
Comme promis voici une liste de modification du registre windows avant toute chose faire une sauvegarde du registre.Faire démarrer executer puis taper regedit aller sur fichier puis exporter choisir l'endroit de la sauvegarde.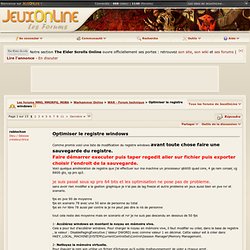 Optimiser le registre windows - Warhammer Online