Astuces/Tweaks/Configuration/Recherche/Outils
AionDeck - Quick Character Informations. TCP Optimizer / Downloads. SG TCP Optimizer TCP Optimizer v3.0.8 (latest .exe or .zip archive) SG Windows 7 / Vista / 2008 Misc Downloads SG Vista TCP/IP Patch - NOT required if using the TCP OptimizerDescription: The SG Vista TCP/IP patch us a quick way to optimize Vista TCP/IP settings for broadband internet connections.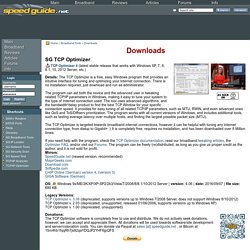 It sets both netsh auto tunning levels and modifies the Windows Registry as recommended by our Vista Tweaks article. Leatrix Latency Fix: Addon WoW - autre - Wowmods-fr.com. Ce visual script va vous permettre de baisser significativement votre latence de 66% !!
O.S. Supporté : Windows XP (SP2 or higher) Windows Vista (SP1 or higher) Windows 7. Optimiser le registre windows - Warhammer Online. Comme promis voici une liste de modification du registre windows avant toute chose faire une sauvegarde du registre.Faire démarrer executer puis taper regedit aller sur fichier puis exporter choisir l'endroit de la sauvegarde.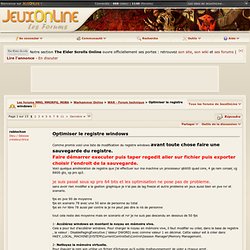 Voici quelque amélioration de registre que j'ai effectuer sur ma machine un processeur q6600 quad core, 4 ga ram corsair, cg 8800 gts, xp pro sp3. je suis passé sous xp pro 64 bits et les optimisation ne pose pas de probleme. sans avoir rien modifier a la gestion graphique je n'ai pas de lag freeze et autre probleme en jeux aussi bien en pve rvr et scenario.
OTCBuiltClient32_woGG - Page 2 -- Aion Forums. AP Team Calc. Adv. AP Calc. Project: Voicepacks for other languages - Aion Forums. Botting is now close to impossible. Just FYI ... there are encrypted GM commands in the Aion client which allows on demand scanning for bots.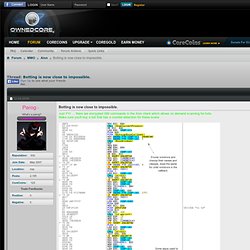 Make sure you'll buy a bot that has a counter-detection for these scans Also, - Logging Movement Routines, Logging Combat Routines -- Parsing them and Filter all Botters ( This won't catch those that use a random skill rotation ) - Detect 2 Injections (at this moment) ( Most likely the most used ones by bots, moving and skill casting ) - Logging Client Packets ( Client injecting something at the wrong time and place and it still gets sent to the server? Ban! ) Private autoit-like bots are the way to go now. Until they stop their daily 10k+ banwaves I'd lay low and not bot whatsoever.
---