Astuces/Tweaks/Configuration/Recherche/Outils
AionDeck - Quick Character Informations
TCP Optimizer / Downloads
SG TCP Optimizer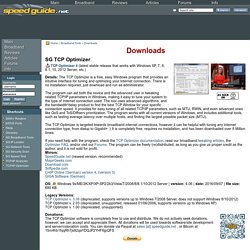 Leatrix Latency Fix: Addon WoW - autre - Wowmods-fr.com
Ce visual script va vous permettre de baisser significativement votre latence de 66% !! O.S.
Optimiser le registre windows - Warhammer Online
Comme promis voici une liste de modification du registre windows avant toute chose faire une sauvegarde du registre.Faire démarrer executer puis taper regedit aller sur fichier puis exporter choisir l'endroit de la sauvegarde. Voici quelque amélioration de registre que j'ai effectuer sur ma machine un processeur q6600 quad core, 4 ga ram corsair, cg 8800 gts, xp pro sp3. je suis passé sous xp pro 64 bits et les optimisation ne pose pas de probleme. sans avoir rien modifier a la gestion graphique je n'ai pas de lag freeze et autre probleme en jeux aussi bien en pve rvr et scenario.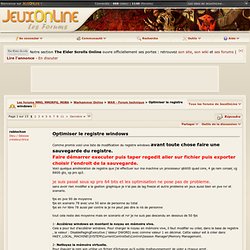 OTCBuiltClient32_woGG - Page 2 -- Aion Forums
AP Team Calc
Adv. AP Calc.
Project: Voicepacks for other languages - Aion Forums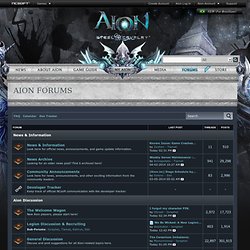 Many has complained of a dislike for some of the combat sounds of Aion. Frequent forum posts ask how to disable these sounds or change to another language.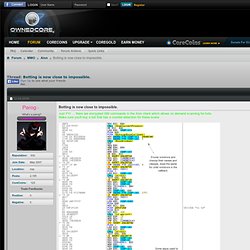 Just FYI ... there are encrypted GM commands in the Aion client which allows on demand scanning for bots. Make sure you'll buy a bot that has a counter-detection for these scans
Botting is now close to impossible.