Wicca
Home - Carolina Dean
Welcome to carolinadean.com. My name is Carolina Dean and this is my online Book of Shadows , which I've created to share my beliefs, practices, and experiences as a practitioner of Wicca with you, my readers. I am Wiccan, and have been studying and practicing the Craft for approximately 20 years. I practice a tradition of the craft which is commonly called Kitchen Witchery , but I also include various aspects of Southern Folk Magick as part of my practices. For me, Wicca is first and foremost a religion; and while it is a religion that accepts the practice of magick as part of it's belief system, the practice of magick does not represent the whole of Wiccan Beliefs and practices.
PaganPages.org
Wicca Online Community For Pagans and Wiccans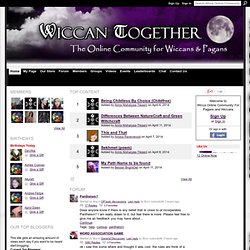 Site Rules Please have your age listed This site is 17+ (As of Nov 22 2010 18+) Current members age 17 are grandfathered in. No Sexual Chat Do not post adult content including but not limited to Photos, Text and Comment Graphics Keep swearing to a minimum We are all adults and should know better Spamming will result in a permanent ban including but not limited to Chatroom, Forums, email,and member pages. ( As a guideline if you post the same or similar message more than once it is most likely going to be considered spam.) If you have a non tech issue with the site please contact me directly my profile ishttp://www.wiccantogether.com/profile/newtowicca.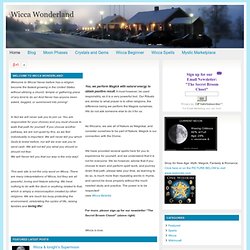 Wicca & tonight's Supermoon Wicca and tonight's Supermoon… Even without tonight being a "Supermoon", it's a good night for spell work. The fact that it's closer to earth does give a tad more power, but doesn't necessarily mean all results will be any better. However, why not go out into the night sky and enjoy it!
Magickal Wicca Wonderland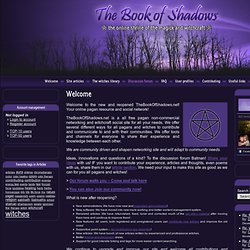 Welcome to the new and reopened TheBookOfShadows.net! Your online pagan resource and social network! TheBookOfShadows.net is a all free pagan non-commercial networking and witchcraft social site for all your needs.
Welcome to the Book of Shadows - The Book of Shadows
Try some scrying at Imbolc.Image © Getty Images;Licensed to About.com Scrying is the act of staring into something - often a shiny surface, but not always - for the purpose of divination. Visions and images are then interpreted intuitively by the individual doing the scrying. Many people prefer to scry using shiny surfaces - mirror, a crystal ball, even water - but another popular method is that of fire scrying. Because Imbolc is a festival of fire, you may want to try this scrying technique using the element of fire, which is associated with change, destruction and renewal.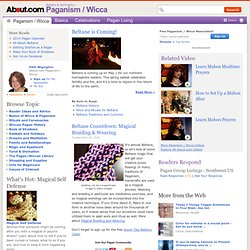 Starcrafts | Your online metaphysicial source )O(
The College of the Sacred Mists - Online Wiccan Degree Training Program and Certified Herbalist Course.