Physics
Steve Jones. Apply Today - Non-permanent posts. This page is available in 3 languages Temporary staff may be employed to perform a wide variety of highly specialised or temporary tasks.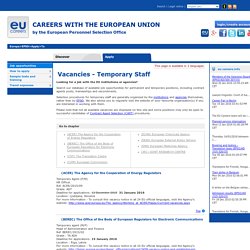 The length of the employment varies, at the European Commission it is a maximum period of six years. Ap physics. Free Online MIT Course Materials for High School | Physics. Physics B. Learn the principles of both classical and modern physics that are used to describe the natural world and apply these principles to solve problems.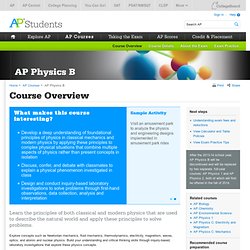 Explore concepts such as Newtonian mechanics, fluid mechanics, thermodynamics, electricity, magnetism, waves, optics, and atomic and nuclear physics. Build your understanding and critical thinking skills through inquiry-based, laboratory investigations that explore these physics concepts. Physics C. Apcentral.collegeboard.com/apc/public/repository/ap-physics-course-description.pdf.
---