Evaluation
Ressources en ligne - Accueil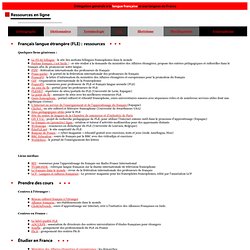 Quelques liens généraux : Le Fil du bilingue : le site des sections bilingues francophones dans le monde Parlons français, c'est facile ! : ce site réalisé à la demande du ministère des Affaires étrangères, propose des entrées pédagogiques et culturelles dans le français afin de promouvoir notre langue.
Damian Cooper - Talk About Assessment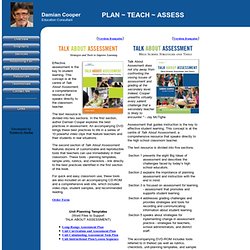 Effective assessment is the key to student learning. This concept is at the centre of Talk About Assesment, a comprehensive resource that speaks directly to the classroom teacher. The text resource is divided into two sections. In the first section, author Damian Cooper explores the best practices in assessment. An accompanying DVD brings these best practices to life in a series of 10 powerful video clips that feature teachers and their students in real situations.
Internet Catalogue
A few months ago, I wrote for Edutopia.org about the power of focusing on a few, high-priority standards as a strategy to improve student learning. Many other elements also need to be in play in a classroom in order to produce the results that we all want to see for our students. To name just a few: The learning environment needs to be one in which students feel respected and safe to take risks; kids need to feel that their learning has a purpose and that the curriculum is relevant to their lives; and students need feedback on their progress -- they need to know what they're trying to accomplish, where they are in relation to the goal, and what they need to do in order to get there. It is the teacher's role to make sure this happens.
Do You Check for Understanding Often Enough with Students?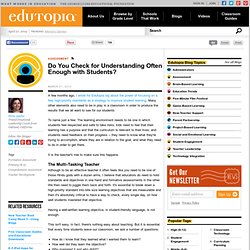 Rubrics
High Tech High Digital Portfolios
Internet Catalogue
Quality Rubrics / Home
Introduction: A search for "rubrics" in Google returns over 2 million results while Amazon.com claims over 30,000 educational books that address them in one shape or another. For any educator looking to know more about rubrics and how to use them in his or her classroom, finding a starting point can be challenging and difficult. This wiki was created as a place to address two needs: First, to explore what makes a rubric a "quality rubric" with definitions, examples, and non-examples. Second, to wrestle with some of the issues that come along with them.