Chansons
Mes exercices en Hot Potatoes et autres générateurs d'activités interactives. Carmen Vera Pérez. Your browser does not support script Choisissez l'exercice que vous préférez faire, en faisant dérouler le menu.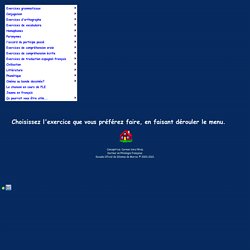 Conceptrice: Carmen Vera Pérez.Docteur en Philologie française.© 2003-2014. Exercices grammaticaux Conjugaison. "Octobre", Francis Cabrel. FRENCH-POPS.COM - PAROLES ET VIDEOS DE CHANSONS FRANÇAISES ET FRANCOPHONES. Etre song. Here's a little video for you all to help you remember how to use etre in the passe compose (yes, there should be accents here, and if you can tell me how to put them on, that would be useful!)
It's an interesting song that I found on youtube... Rhianna – Umbrella / Mrs Vandertramp avec EtreMrs Vandertramp, le passé composéIl y a dix-sept verbes, seulement dix-sept verbes.Et c'est très important de savoir ces verbesSi tu vas en France, ou au Canada. Je suis arrivé, allé, venu, passé, revenu, devenu, entré,Rentré, descendu, retourné, resté, monté, sorti, parti,Tombé, né, mort.
Ca c'est le passé composé, avec Mrs VandertrampEt ça sera ta meilleure amie, ça sera ta meilleure amie. MERLIN Media Resources for Language INstruction.
---