Outils
The world's best yarn storage idea | Knits for Life. Your yarn storage is a mess because of this conflict: Yarn companies want you to buy the yarn.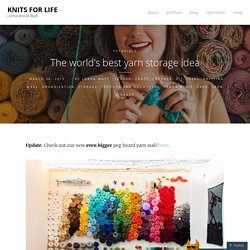 You want to use the yarn. The ideal ball of yarn for each goal is different. Tour de cou 3 en 1. Pour cet hiver, j'ai déjà des bonnets pour avoir bien chaud et avec mon tour de cou 3 en 1 présenté lors de mon précédent article, j'ai aussi commencé ma ronde des cadeaux faits mains.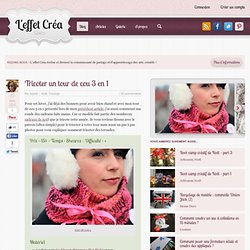 Car ce modèle fait partie des nombreux cadeaux de noël que je tricote cette année. Je vous reviens dessus avec le patron (ultra simple) pour le tricoter à votre tour mais aussi un pas à pas photos pour vous expliquer comment tricoter des torsades. Patron du tour de cou : laine-de-noel-1 Sur votre aiguille à tricoter, montez 28 mailles. Пестро-яркое вязание от Vendula Maderska, Чехия. Цитата сообщения Глебова_ЕленаПестро-яркое вязание от Vendula Maderska, Чехия Доброго времени суток!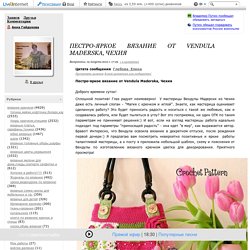 Сплошной позитив! Глаз радует неимоверно! HOLLY BOOKMARK. MATERIALS:Size 10 Crochet threadSize 7 Steel crochet hookNeedle with eye large enough to accept threadRed seed beads for holly berriesNOTES:1.
Read instructions all the way through before beginning.2. Leaves and berries maybe worked with any size yarn or thread just use the appropriate size hook for the yarn.3. Itty bitty crochet heart tutorial. Here is a super-easy, super-fast project that is ideal for last-minute Valentines.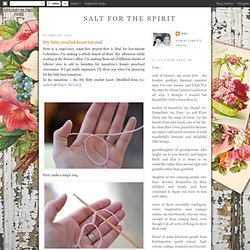 I'm making a whole bunch of these this afternoon while waiting at the doctor's office. I'm making them out of different shades of leftover yarn to add to barrettes for Annalivia's female preschool classmates. If I get really organized, I'll show you what I'm planning for the little boys tomorrow. First, make a magic ring. Then, chain 4. Pretty Little Petals [Free Pattern] Strictly speaking, this post was intended to be the "Part Two" section of the Granny Oblong saga.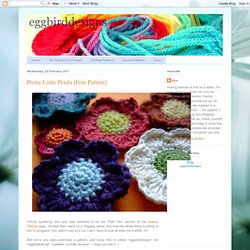 Except that I went on a frogging spree, and now the whole thing is sitting in the "in progress" box (which has a lid, so I don't have to look at them for a while! :P) But since you were promised a pattern, and since this is called "eggbirddesigns" not "eggbirdthefrog", a pattern ye shall receive!! Mariposas en crochet. Recycle your old t-shirts into yarn. Are your hands itching to starting crocheting or knitting but you have no yarn at home?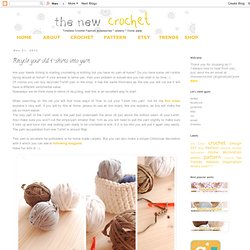 Do you have some old t-shirts laying around at home? If your answer is twice yes, than your problem is solved and you can start in no time ;-). Of course you can buy recycled T-shirt yarn in the shop, it has the same thickness as the one you will cut but it will have a different sentimental value. Nowadays we do think more in terms of recycling, well this is an excellent way to start. Via duitang.com on Indulgy.com. DIY Headband. DIY Headband. Callaloo Soup: Tuesday To-Do | Use T-Shirt Yarn to Crochet a Basket. At last here is the long overdue tutorial.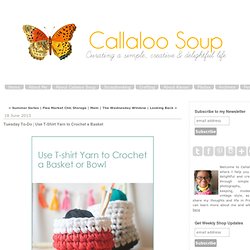 Did you get a chance to make some t-shirt yarn? Here is what you need to crochet a basket using that yarn. At least 2 balls of t-shirt yarn and a large crochet hook. I used a 9mm (US M) hook, but you can use an even bigger one. I found that anything smaller was difficult to use with the bulky yarn. Tunisian Crochet How-To… The Bias Stitch.
Hey folks!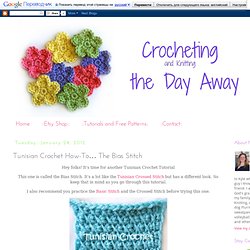 It's time for another Tunisian Crochet Tutorial This one is called the Bias Stitch. It's a lot like the Tunisian Crossed Stitch but has a different look. Kata - free crochet square pattern. Kata This pattern is a flower – created by crocheting clusters.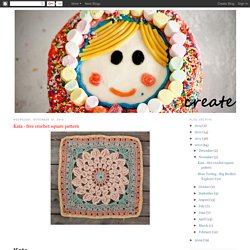 Although the instructions are long, once you master a cluster it will all seem easy. American terminology used. 12' square Worsted weight yarn. Crochets XL. Strickmühle Maxi.
---