Inspiration Végétale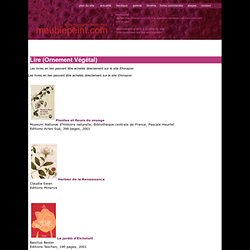 Les livres en lien peuvent être achetés directement sur le site d'Amazon Plantes et fleurs du voyage Museum National d'Histoire naturelle, Bibliothèque centrale de France, Pascale Heurtel Editions Actes Sud, 396 pages, 2001 Herbier de la Renaissance Claudia Swan Editions Minerva Le jardin d'Eichstatt Basilius Besler Editions Taschen, 190 pages, 2001 L'herbier d'Ulisse Aldrovandi Biancastella Antonino, Alessandro Tosi, Andrea Ubrizsy Savoia Editions Actes Sud, 256 pages, 2004
livres sur l'ornement vegetal
Flower Prints and Botanical Prints by Carol Till
I just enrolled in ceramics school this week and had my first class today! I feel like my arms are going to fall off! I did lots n' lots of kneading, I sat at the wheel for the first time in my life and learned how to center, cut and shape and loved every minute of it :) I also learned that a totally different set of skills is needed for this kind of craft, but most importantly I had fun learning something new. I'm excited to see where this will lead.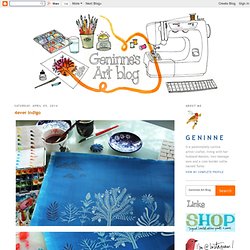 aquarelle-bota-clairefelloni
Lundi 24 mars 2014 1 24 /03 /Mars /2014 14:02 Voilà une fleur que je voulais peindre depuis longtemps ! Il faut dire que la Fritillaire impériale est une plante anciennement introduite dans les jardins et souvent représentée dans les florilèges depuis la renaissance. C'est le botaniste Charles de l'Ecluse qui nous l'a ramenée de Vienne , cette bulbeuse y était arrivée de Turquie vers 1575. Elle ornait depuis bien plus longtemps les beaux jardins de l'empire ottoman tout comme sa cousine la tulipe ! La couronne de bractées feuillées qui termine la tige lui a donné son autre nom de Couronne impériale.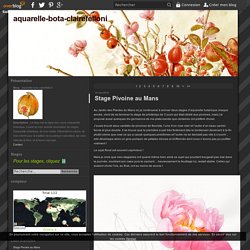 Librairie Bodoni - Fleurs, oiseaux et fantaisies
Claire Basler - Accueil - Home Page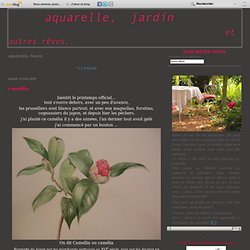 fleurs - iris bleu - renkaku blanc sur… - anémone pulsatille… -
SALON DES ARTISTES RÉGIONAUX VINEUIL près de BLOIS (41) ouvert les après-midis JUILLET AOÛT 2013 Galerie LA MAISON DU PÊCHEUR CHAUMONT SUR LOIRE Chambres d'hötes au Château de Valmer 6 ET 7 Octobre 2012