MMORPG
Online : le jeu en ligne de fantasy par navigateur
AION free-to-play already has over 750,000 new players! After four weeks we've got AION free-to-play's first progress report: so far 750,000 new accounts have been created on Gameforge's servers and 20,000 new accounts are added every single day! The number of players that visit Atreia on a daily basis has increased fivefold since its release.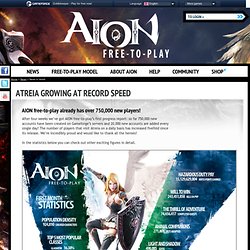 Aion free-to-play
Téléchargement - Eden Eternal | Eden Eternal French
I was first introduced to Warhammer Online, when it was added last minute to GameSpot.com's E3 2006 stage show. As one of the hosts of the show, my responsibility was to research the game and the franchise, gather questions from the audience, and give a thoughtful informative interview with whomever had been sent over from the development team. I never could have anticipated what happened next.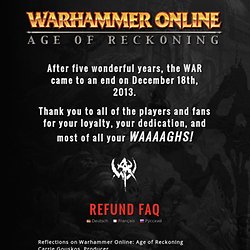 BioWare Warhammer Online - Play4Free
Dans peu de temps, les Douziens auront l'immense privilège de pouvoir accéder aux Dimensions Divines. Pénétrer dans l'intimité des Dieux, s'introduire dans leur havre de paix et découvrir leur décoration intérieure (parfois douteuse pour certains…) : bientôt, les dimensions de chacun des douze Dieux n'auront plus de secret pour les aventuriers du Monde des Douze ! L'Ingloriom, cette étendue du Krosmoz réservée aux entités divines, sera alors à la portée de chacun ! De quoi ravir les plus curieux d'entre eux... Mais ces lieux ont-ils toujours été vierges de toute présence douzienne ?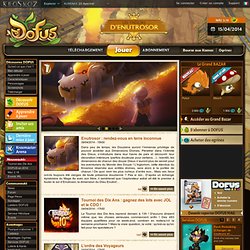 MMORPG DOFUS :: Jeu de rôle massivement multijoueur sur Internet
..:: [ Mankind ][ Site web officiel ] ::..