MMORPG
Online : le jeu en ligne de fantasy par navigateur
AION free-to-play already has over 750,000 new players! After four weeks we've got AION free-to-play's first progress report: so far 750,000 new accounts have been created on Gameforge's servers and 20,000 new accounts are added every single day! The number of players that visit Atreia on a daily basis has increased fivefold since its release.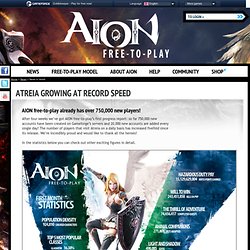 Aion free-to-play
Téléchargement - Eden Eternal | Eden Eternal French
MMORPG DOFUS :: Jeu de rôle massivement multijoueur sur Internet
..:: [ Mankind ][ Site web officiel ] ::..