Climate
Get flash to fully experience Pearltrees
We are now ready to extend our understanding of air parcel and air mass movements to regional and global scales. As generalities: air moves along pressure gradients from conditions of high pressure to lower pressure; warm air rises, cold air sinks; movements of air are influenced also by the motion of the Earth itself, as well as other forces. The dominant cause behind movement of air in near horizontal conditions is the pressure gradient.
MONTHLY Intrinsic PressureLevel u u u u zonal wind from NOAA NCEP-NCAR CDAS-1: Climate Data Assimilation System I; NCEP-NCAR Reanalysis Project. Independent Variables (Grids)
The timing, dynamics, and cause of the Holocene Thermal Maximum in the Arctic Home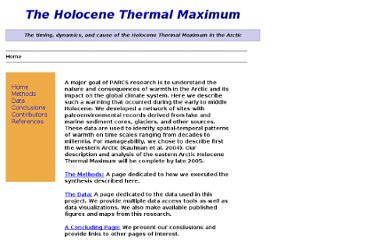 Paleoclimatologists have long suspected that the "middle Holocene" or a period roughly from 7,000 to 5,000 years ago, was warmer than the present
Astronomical solutions for paleoclimates generates Earth's orbital parameters (eccentricity, tilt, climatic precession, and insolation) over a span of 50 million years in the past to 20 million years in the future. One of my slow learning projects has to been to use the output from this program to create illustrations of orbital configurations at key climatic transitions, such as the Eemian interglacial.
Many of the current predictions for future climate and environmental impacts have been made on the basis of complex computer models of the Earth's systems. Though such models have been successful in many areas, and are improving in accuracy and fidelity with increasing computer power, they still carry large uncertainties and margins of error, especially the further into the future that models are run. One way that such uncertainties might be reduced is by looking at the geological and fossil record for periods in Earth's history that were warmer than today and determine how the environment responded.
Bright Stars Temecula Valley (home)