Math Resources
Acing Math. Quantile Teacher Assistant. Problem Solving. Mathwire.com Topics Kindergarten These problems are designed for students in kindergarten.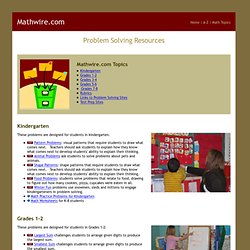 Pattern Problems: visual patterns that require students to draw what comes next. Problem Solving Teaching Ideas. Understanding Word Problems - Use your comprehension time to discuss strategies for understanding word problems!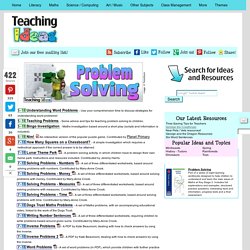 Teaching Problems - Some advice and tips for teaching problem solving to children. Bingo Investigation - Maths investigation based around a short play (scripts and information is included). Nim! An interactive version of the popular puzzle game. K-12 Mathematics Vocabulary. Math practice. Sheppard Software: Fun free online learning games and activities for kids.
Middle School Math Games. This is an exciting jeopady game about exponents.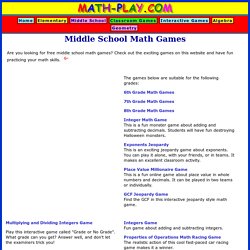 You can play it alone, with your friends, or in teams. It makes an excellent classroom activity. Fun game about adding and subtracting integers. Place Value Millionaire Game is a fun online game about place value in whole numbers and decimals. It can be played in two teams or individually. Math Word Problems for Kids. XP Math Games. Teach 21. Common Core Resources. Create A Graph. Graphs and charts are great because they communicate information visually.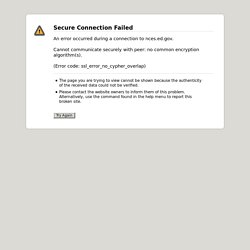 For this reason, graphs are often used in newspapers, magazines and businesses around the world. NCES constantly uses graphs and charts in our publications and on the web. Graphing Calculator. Test Prep. Welcome to the Virginia State Standards of Learning Practice Tests!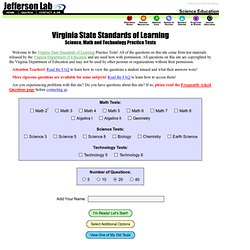 All of the questions on this site come from test materials released by the Virginia Department of Education and are used here with permission. All questions on this site are copyrighted by the Virginia Department of Education and may not be used by other persons or organizations without their permission. Attention Teachers! Math in the Real World. Foldables & Study Guides. Lose a foldable?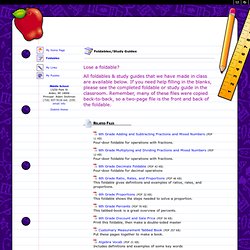 All foldables & study guides that we have made in class are available below. If you need help filling in the blanks, please see the completed foldable or study guide in the classroom. Remember, many of these files were copied back-to-back, so a two-page file is the front and back of the foldable. 6th Grade Adding and Subtracting Fractions and Mixed Numbers (PDF 11 KB)Four-door foldable for operations with fractions. 6th Grade Multiplying and Dividing Fractions and Mixed Numbers (PDF 12 KB)Four-door foldable for operations with fractions.
Math SuperStars. Math in Children's Literature. Math in Children's Literature 187K+ New!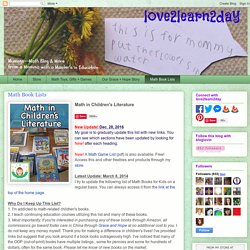 A Math Game List (pdf) is also available. Free! Access this and other freebies and products through my store. Latest Update: March 8, 2014 I try to update the following list of Math Books for Kids on a regular basis.
---