Web design
Create realistic type on wood. In this tutorial we are going to take some regular text and add some effects to make it look like it has been painted or printed on wood.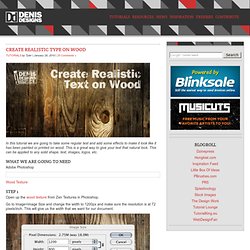 This is a great way to give your text that natural look. This can be applied to any solid shape, text, images, logos, etc. What we are going to need. Interesting CSS3 and HTML5 Tutorials - August 2010 | AjaxLine. Tutorial9 | Photoshop Tutorials, Photography Tuts, and Resources. 50 Great Photoshop Tutorials for Clever Beginners. Photoshop is clearly our favorite photo editing software.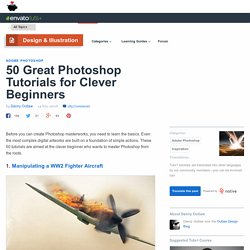 In this article, we have listed 30 phot... Photoshop is clearly our favorite photo editing software. In this article, we have listed 30 photo effect tutorials that will show you how to perform a wide range of tasks including age progression, Instagram-like effects, lomo effects, light leaks, as well as vintage and retro effects that you can use to help improve your photo editing workflow. CSS3.0 Maker | CSS3.0 Generator. 15 Web Alternatives to Popular Desktop Software. Web applications have come a long way.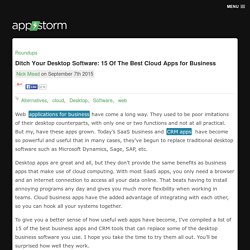 They used to be amateur imitations of their desktop counterparts, with only one or two functions and not at all practical. But my, have these web apps grown. Web apps these days have become so powerful and useful that in some cases, they've begun to replace desktop software. Desktop programs are great and all, but they don't provide the same benefits as web apps that make use of cloud computing. 35 Hand-Picked Illustrator Drawing Tutorials From 2010 - Noupe Design Blog. Sep 14 2010 Adobe Illustrator is a powerful tool to help designers produce high quality digital drawings.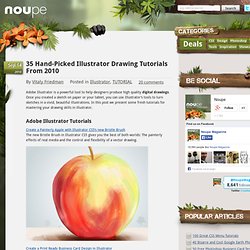 Once you created a sketch on paper or your tablet, you can use Illustrator's tools to turn sketches in a vivid, beautiful illustrations. Noupe Design Blog. Stock Photos | Shutterstock: Royalty-Free Subscription Stock Photography & Vector Art. Creating Text on a Path in Illustrator. 2010/08/18/free-ebooks-web-designers/ While many may still prefer print for long-form reading, e-books are gaining popularity as a worthy digital alternative.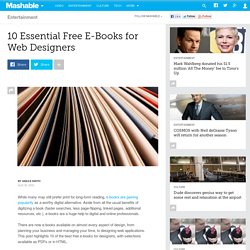 Aside from all the usual benefits of digitizing a book (faster searches, less page-flipping, linked pages, additional resources, etc.), e-books are a huge help to digital and online professionals. There are now e-books available on almost every aspect of design, from planning your business and managing your time, to designing web applications. Day 2: Getting Started in Illustrator | Vectordiary. If you haven't gotten your Illustrator, you can download the 30 days trial from Adobe's download page.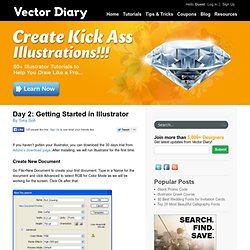 After installing, we will run Illustrator for the first time. Create New Document Go File>New Document to create your first document. Type in a Name for the document and click Advanced to select RGB for Color Mode as we will be working for the screen. 40+ Web Design and Development Resources for Beginners. Brian Casel is a web designer and owner of ThemeJam WordPress Themes and CasJam Media.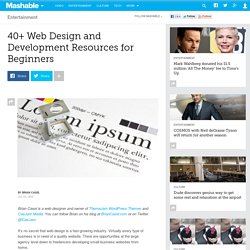 You can follow Brian on his blog at BrianCasel.com or on Twitter @CasJam. It's no secret that web design is a fast-growing industry. 10 Free and Fun Twitter Bird Icons for your Website. 12 Tutorials for Getting Started with Adobe Illustrator. Adobe Illustrator, the industry-standard vector graphics application, is the tool you use when you need flexible, scalable vector graphics such as logos and artwork that will be printed in various formats, mediums and sizes.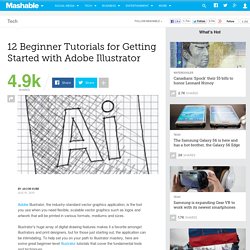 Illustrator's huge array of digital drawing features makes it a favorite amongst illustrators and print designers, but for those just starting out, the application can be intimidating. To help set you on your path to Illustrator mastery, here are some great beginner-level Illustrator tutorials that cover the fundamental tools and techniques.
Blog Web Design. Web design software, HTML editor | Adobe Dreamweaver CS5. The Adobe USA site has been optimized for users within the United States.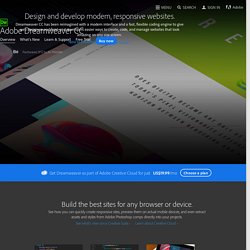 If you live outside the U.S., we recommend that you visit your local site for the most relevant information, including pricing, promotions, and local events. United States Canada - English. Free Adobe Photoshop, Flash, Dreamweaver, Illustrator, Fireworks. All you ever wanted to know about Dreamweaver at Dreamweaver FAQ.com. How To Use Dreamweaver. To create a link to another page in your site.
First you must create a new html document, just as was done for the "index" page. This time you may name the new document as you wish, just remember: It is important as a rule-of-process, to always name folders, webpages and images with lowercase text and no spaces in their naming.
---