Ebooks
Groupon Writers' Reading List
A Summer Reading List - page 2
Top 100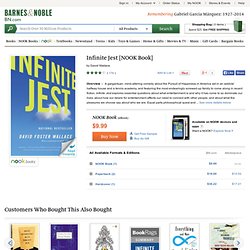 Infinite Jest, David Foster Wallace, (9780316073851) NOOKbook (eBook) - Barnes & Noble
Thick This book is thick. By that, I mean it does not really flow the way most stories do. The narrative tends to jump around in both location and time without any real cohesivness. While the author does have a great sense of humor (I laughed out loud a few times), the scattered progression of the book makes it difficult to really get into. I really want to finish reading this book because 1.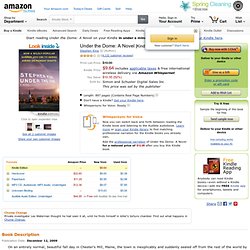 Under the Dome eBook: Stephen King
Amazon Exclusive: Guillermo del Toro and Chuck Hogan Reviews Under the Dome Guillermo del Toro and Chuck Hogan share their enthusiasm for Stephen King's thriller, Under the Dome. This pair of reviewers knows a thing or two about the art of crafting a great thriller. Del Toro is the Oscar-nominated director of international blockbuster films, including Pan's Labyrinth and Hellboy. Hogan is the author of several acclaimed novels, including The Standoff and Prince of Thieves, which won the International Association of Crime Writer's Dashiell Hammett Award in 2005. The two recently collaborated to write the bestselling horror novel, The Strain, the first of a proposed trilogy.
An Object of Beauty: A Novel eBook: Steve Martin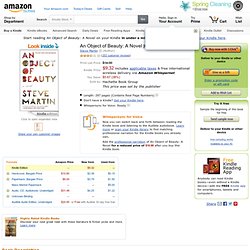 The actor and comedian Steve Martin has written a novel, AN OBJECT OF BEAUTY, that captures the contemporary art scene in all its sordid, devastating brilliance. Once a generation, it seems, the art world comes under a scathing literary attack of satire that puts artists, collectors, dealers and art institutions in their proper place. Tom Wolfe did in 1975 in his savage satirical essay, "The Painted Word," to wit: "Each new movement, each new ism in Modern Art was a declaration by the artists that they had a new way of seeing, which the rest of the world (read: the bourgeoisie) couldn't comprehend," wrote Wolfe. "'We understand!'
The Lost Symbol, Robert Langdon Series, Dan Brown, (9780385533133) NOOKbook (eBook) - Barnes & Noble
Nothing but the same from Dan Brown This sums up every Dan Brown novel written. The main character is always taken unexpectedly and thrust in a fast paced scenario, where the fate of so many, rest on him or her solving a series of riddles and mysteries. While the antagonist, who in the end turns out to be a good guy, is always close, and the good guy, in the end, always is the bad guy; the very person you think the bad guy is. Not to mention these events always take place within less than a 24 hour time period. Dan Brown has lost all sense of originality.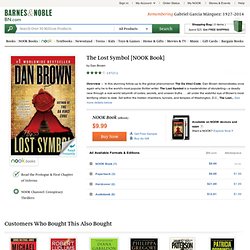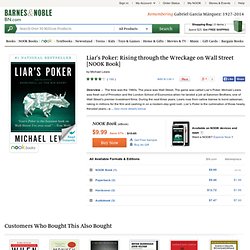 Not a very serious take on the subject, but entertaining I've read this book twice; once when it came out about twenty years ago, and again a few weeks ago. The difference twenty years of living makes is immense. As a young man, this writer's voice did not bother me, but at 43, I found him irritating in the extreme.
Liar's Poker, Michael Lewis, (9780393066258) NOOKbook (eBook) - Barnes & Noble
Just Kids eBook: Patti Smith
Have you ever awoken from a dream and yearned to tell someone close by all the seemingly concrete details that made so much sense in unconsciousness, but upon consciousness are rendered incomprehensible, even worse, banal when spoken? Or, have you ever had to retreat midway through a story about how interesting a scene or city was to have experienced with that sad qualifying statement: "Well, I guess you had to be there," those blank stares and yawns from listeners way too much to bear? Well, I have.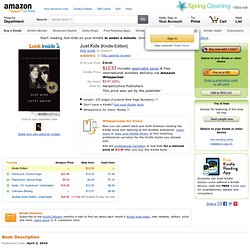 I was a fan of Emma Donoghue since reading Slammerkin many years ago. I started this book this morning and just put it down. I was glad it was a holiday and I had nowhere to go! I just couldn't stop going back to it until it was finished. I was hooked upon reading the first paragraph, 'Today I'm five. I was four last night going to sleep in Wardrobe, but when I wake up in Bed in the dark I'm changed to five, abracadabra.
Room: A Novel eBook: Emma Donoghue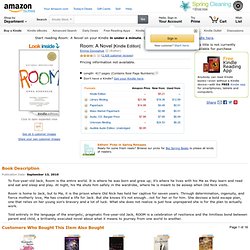 The Imperfectionists: A Novel eBook: Tom Rachman
This is a wonderful read and well worth your time! The story moves cleverly between the world of 90, or possibly, 93 year old, Jacob, in a nursing home, as he tells the story of his life, the Depression era and the circus world. He was twenty-three and almost ready to take his final exam, when he receives word that both of his parents were in a car accident and did not survive.
Water for Elephants, Sara Gruen, (9781565125858) NOOKbook (eBook) - Barnes & Noble