Web as a tool for journalist
Formats
Data. ...the deadline. NYT Reporter Shows the Power of Twitter as Journalism Tech News and Analysis. Updated: Anyone who has been following the protests and revolutions in the Middle East for the past few months has probably heard of Andy Carvin, the NPR editor who has been using Twitter to curate news from the region.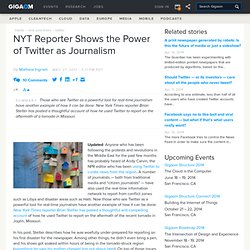 A number of journalists — both from traditional media and "citizen journalists" — have also used the real-time information network to report from conflict zones such as Libya and disaster areas such as Haiti. Now those who see Twitter as a powerful tool for real-time journalism have another example of how it can be done: New York Times reporter Brian Stelter has posted a thoughtful and compelling account of how he used Twitter to report on the aftermath of the recent tornado in Joplin, Missouri.
Orange - Data Mining Fruitful & Fun. Search Home - Search Yale Digital Commons. Les organigrammes des plus grandes entreprises mondiales - TheOfficialBoard. Avenir journalisme. PDF to Word (DOC)
NPR's @acarvin on his Middle East Twitter feed - AFP-MediaWatch. Data Journalism Developer Studio – SUSE Gallery. Audioboo. Un journaliste belge effectue des reportages avec son iPhone en Egypte. Le journaliste belge Tim Verheyden, envoyé spécial au Caire par la chaîne VTM, et son équipe, se sont fait confisquer leurs caméras par les forces de l'ordre égyptiennes.
Ces derniers ont déclaré s'être fait saisir leur matériel car ils ne disposaient pas des autorisations nécessaires requises par les autorités égyptiennes. Pour combler à cette lacune plutôt gênante dans son travail de journaliste, Verheyden, désirant à tout prix retransmettre de l'information, a eu l'idée d'utiliser son iPhone pour filmer et ensuite retransmettre ses reportages par voie satellite. Réagissez sur le forum. [ De Standaard ] Comment éviter les pièges du powerpoint? Twitter Lists - The New York Times.
---