Web as a tool for journalist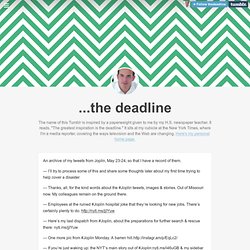 ...the deadline
An archive of my tweets from Joplin, May 23-24, so that I have a record of them. — I'll try to process some of this and share some thoughts later about my first time trying to help cover a disaster. — Thanks, all, for the kind words about the #Joplin tweets, images & stories. Out of Missouri now.
Updated: Anyone who has been following the protests and revolutions in the Middle East for the past few months has probably heard of Andy Carvin, the NPR editor who has been using Twitter to curate news from the region. A number of journalists — both from traditional media and "citizen journalists" — have also used the real-time information network to report from conflict zones such as Libya and disaster areas such as Haiti. Now those who see Twitter as a powerful tool for real-time journalism have another example of how it can be done: New York Times reporter Brian Stelter has posted a thoughtful and compelling account of how he used Twitter to report on the aftermath of the recent tornado in Joplin, Missouri.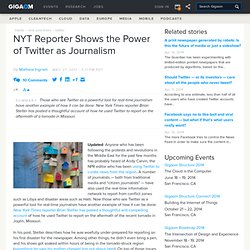 NYT Reporter Shows the Power of Twitter as Journalism Tech News and Analysis
Cross Collection Discovery (CCD) provides a way to search across Yale's collections of art, natural history, books, and maps, as well as photos, audio, and video documenting people, places, and events that form part of Yale's institutional identity and contribution to scholarship. The content searchable in CCD will grow as additional University departments make use of the service to share Yale's collections with the Yale community and the world. Not all content available through Discover Yale Digital Content is unrestricted. Please refer to the individual repository website and to the rights information in the record for each item.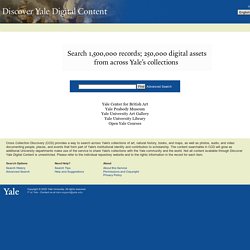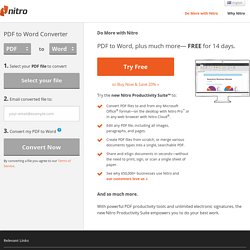 Q: Will files with confidential information be secure? Nitro Cloud uses the latest technology to ensure your data and company operational activities are safe and private. Feel safe knowing you and only you control access to your data.
Data Journalism Developer Studio – SUSE Gallery
Le journaliste belge Tim Verheyden, envoyé spécial au Caire par la chaîne VTM, et son équipe, se sont fait confisquer leurs caméras par les forces de l'ordre égyptiennes. Ces derniers ont déclaré s'être fait saisir leur matériel car ils ne disposaient pas des autorisations nécessaires requises par les autorités égyptiennes. Pour combler à cette lacune plutôt gênante dans son travail de journaliste, Verheyden, désirant à tout prix retransmettre de l'information, a eu l'idée d'utiliser son iPhone pour filmer et ensuite retransmettre ses reportages par voie satellite. Réagissez sur le forum. [ De Standaard ]
Un journaliste belge effectue des reportages avec son iPhone en Egypte
comment éviter les pièges du powerpoint?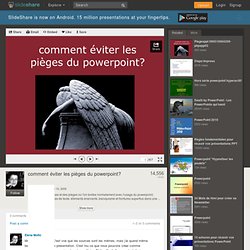 14,556 views présentation des vices et des pièges où l'on tombe normalement avec l'usage du powerpoint: diapositives chargées de texte, éléments énervants, baroquisme et fioritures superflus dans une ... présentation des vices et des pièges où l'on tombe normalement avec l'usage du powerpoint: diapositives chargées de texte, éléments énervants, baroquisme et fioritures superflus dans une présentation professionnelle- traduction/adaptation d'excellentes présentations en ligne, comme celle d'Alexei Capterev "Death by PowerPoint". Statistics Views
Twitter Lists - The New York Times