Photojournalisme
Photoshop.com. TinEye Reverse Image Search. P H O T O J O U R N A L I S M L I N K S. Oeil du viseur. MediaStorm: A Multimedia Production Studio. The Big Picture.
Many indigenous groups, including the Huni Kui, Ashaninka, and Madija, live in villages in the Brazilian rainforest near the border with Peru.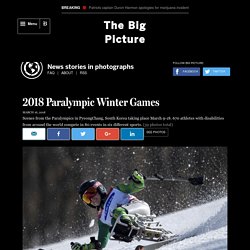 Over the past three years, the Ashaninka and Madija say that they have seen more and more incursions on their territory from uncontacted tribes, defined by Survival International as groups who have no peaceful contact with mainstream society. The "Bravos," or "Braves," as uncontacted Indians are called in the region, carry out raids on other villages, putting the communities along the Envira River on permanent alert.
Leaders of the Ashaninka tribe have asked the government and NGOs for help in controlling what they consider an encroachment on their area by these uncontacted indigenous groups, stating that the movement of these other tribes is the result of pressure caused by illegal logging across the border in Peru. All Eyes | Reporting with a camera. Photo Journal. Sacramento Bee -- The Frame. LA PLATA, Argentina (AP) -- Argentine police and soldiers searched house to house, in creeks and culverts and even in trees for bodies on Thursday after floods killed at least 57 people in the province and city of Buenos Aires.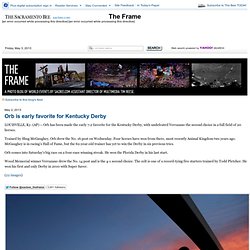 As torrential rains stopped and the waters receded, the crisis shifted to guaranteeing public health and safety in this provincial capital of nearly 1 million people. Safe drinking water was in short supply, and more than a quarter-million people were without power, although authorities said most would get their lights back on overnight. Many people barely escaped with their lives after seeing everything they own disappear under water reeking with sewage and fuel that rose more than six feet (nearly two meters) high inside some homes.
The wreckage was overwhelming: piles of broken furniture, overturned cars, ruined food and other debris. Sélection de liens photo par Juliette Robert. Tiens, pour une fois au lieu de me plaindre, de lire des articles super pessimistes sur le Monde.fr ou de dire du mal d'HCB, on va aller voir ce qui se fait de mieux en photo documentaire sur internet.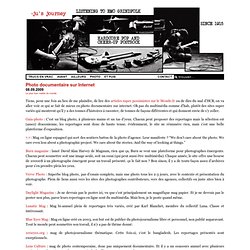 Oh pas du multimédia comme d'hab, plutôt des sites super variés qui montrent qu'il y a des tonnes d'histoires à raconter, de tonnes de façons différentes et qui donnent envie de s'y coller. Gaia-photo : C'est un blog photo, à plusieurs mains et un tas d'yeux. Chacun peut proposer des reportages mais la sélection est (assez) draconienne, les reportages sont donc de haute tenue. évidemment, le site ne rémunère rien, mais c'est une belle plateforme d'exposition. 7.7 : Mag en ligne espagnol qui sort des sentiers battus de la photo d'agence. Leur manifeste ? Photojournalism - Photography, Video and Visual Journalism Archives - Lens Blog. Galerie Le Figaro.
---