Dominos
A List of 116 Dead Scientists… Assassinated? Died 2013 Dr.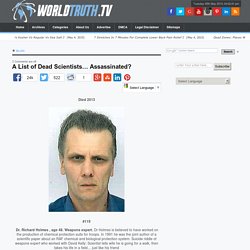 Richard Holmes , age 48. Weapons expert. FACEBOOK WILL END ON MARCH 15th, 2012!  Nations Of The World Collectively Kick Out Monsanto. Health Wire Posted by Nate Holl - Tuesday, February 14th, 2012 Natural Society named Monsanto the World's Worst Company last year, and this peddler of pesticides might defend its title in 2012.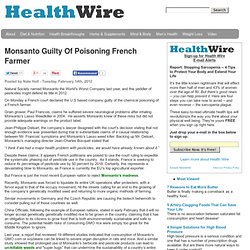 On Monday a French court declared the U.S based company guilty of the chemical poisoning of a French farmer. Grain grower, Paul Francois, claims he suffered severe neurological problems after inhaling Monsanto's Lasso Weedkiller in 2004. Gibiru Search Engine Proxy & Alternative Search Engine. With 7 Arrested, a Widening Inquiry Into the Olympus Scandal. Switzerland's central bank chief resigns - Europe. The Swiss National Bank chairman has resigned abruptly, bowing to a public uproar over his private currency deals.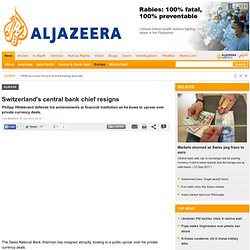 Philipp Hildebrand's decision comes just as a Swiss parliamentary committee is preparing to grill him behind closed doors. His resignation took effect immediately on Monday, Switzerland's central bank said in a brief statement. A short time later, Hildebrand called an impromputu press conference in the Swiss capital of Bern, where he emphasised that he was proud of his achievements at financial institutions in Switzerland and international organisations such as the World Bank.
"I would like to think I have been a damn good central banker," Hildebrand said. "I personally advocated strongly and early for stricter capital requirements for the big banks. Arrests made in Italy after discovery of $6 trillion in fake U.S. bonds. By the CNN Wire Staff updated 11:59 AM EST, Fri February 17, 2012 NEW: $6 trillion is more than twice Italy's national debtThe bonds were discovered as part of an investigation into a local mafia groupArrest order was issued in the southern Italian city of Potenza8 people arrested after $6 trillion in fake U.S. bonds found in Italy (CNN) -- Italian authorities on Friday arrested eight people in possession of an estimated $6 trillion in counterfeit U.S.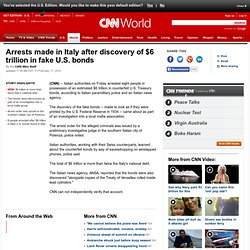 Treasury bonds, according to Italian paramilitary police and an Italian news agency. The discovery of the fake bonds -- made to look as if they were printed by the U.S. Did the White House tell the World Bank president that he's out? A source inside the World Bank sends along this nugget on the simmering question of whether and when the World Bank will get a new president: Rumors are running wild that RBZ [Robert Zoellick] was told earlier this week by the White House that they would like to see him go.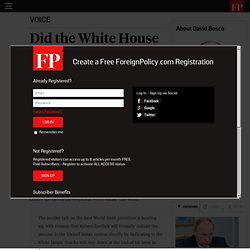 RBZ has called on short notice a meeting with the Board for this morning - which is very unusual. So people are putting two and two together. Massive Resignations Have Started « 2012 Indy Info – LRC. Recently, the WhiteHats released this video of Lord James of BlackHeath urging the House of Lords to conduct an investigation related to a possible bank heist to the tune of US$ 16 Trillion.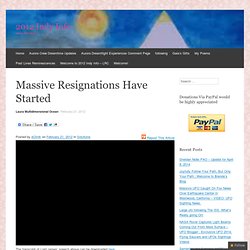 This is a very significant measure as it is now put on public record those "wild rumors" being passed around in the alternative media. The White Dragon Society represented by Ben Fulford is also confirming that a March 31st deadline has been set by the Gnostic Illuminati against the Khazarian Satanic Cabal to transfer power over to Prince Harry to effect Global Settlements. To our understanding this amount is separate from the US$16 Trillion being doled out since Obummer was put into office.
There are significant resignations made by CEOs and other high-ranking officials across the globe. British tanks to be sent to Germany for storage so army can sell land in UK | UK news. It has been an awfully long time since British tanks rumbled their way across Europe towards the Rhine – 67 years, in fact.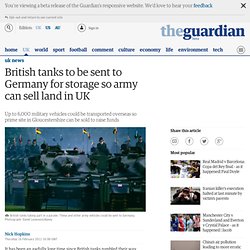 So the Germans will be intrigued to learn the Ministry of Defence is plotting another push east, albeit an unconventional one that has been forced on it by budget cuts. Thousands of the British military's tanks, carriers and cars will head across the Channel because of MoD plans to sell off its vast complex at Ashchurch in Gloucestershire. This is where it stores or repairs up to 6,000 vehicles, ready for duty.
The problem of where to put them all when the 72-hectare (178-acre) site is sold has been troubling military planners, who have plumped for Mönchengladbach in western Germany. The city in North-Rhine Westphalia is home to the British-owned Ayrshire barracks. Massive Wave Of Resignation From Top Level Bankers. The Elite Are Loosing Their Grip or/and SHTF. I will be editing this OP until I reach time limit.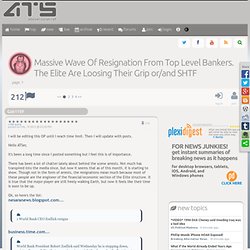 Then I will update with posts. Hello ATSer, It's been a long time since I posted something but I feel this is of importance. There has been a lot of chatter lately about behind the scene arrests. Not much has transpired into the media since, but now it seems that as of this month, it is starting to show. German President Wulff quits over corruption claims. 17 February 2012Last updated at 23:33 German President Christian Wulff: "I have acted without fault and always been honest" German President Christian Wulff has announced his resignation, after prosecutors called for his immunity to be lifted.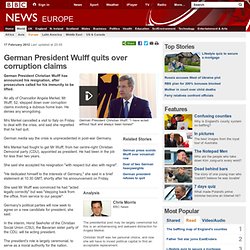 An ally of Chancellor Angela Merkel, Mr Wulff, 52, stepped down over corruption claims involving a dubious home loan. Budget Day 2012: Obama outlines $4trillion budget with bullish plans for boosting growth and higher taxes on rich. Barack Obama speaks in Virginia on 2013 budget proposal to Congress His plan requests $800bn for infrastructure investment and job creation Urges minimum 30% 'Buffett Tax' on millionaires, named after investorBudget deficit projected at $1.33tn in fiscal 2012; falling to $901bn in 2013GOP paints him as tax-and-spend liberal and attack track record on jobs By Mark Duell Updated: 10:51 GMT, 14 February 2012 Barack Obama was today accused of ignoring the deficit as he called for aggressive spending to boost growth and for higher taxes on the rich, proposing an election-year vision for the U.S.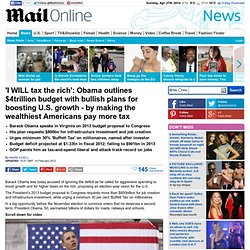 The President's 2013 budget proposal to Congress requests more than $800billion for job creation and infrastructure investment, while urging a minimum 30 per cent 'Buffett Tax' on millionaires. In a big opportunity before the November election to convince voters that he deserves a second term, President Obama, 50, earmarked billions of dollars for roads, railways and schools. Scroll down for video. News International offices searched as four more men are arrested | Media. News International's offices in Wapping, east London. Photograph: Ian Nicholson/PA Wire/Press Association Images Four current and former senior Sun journalists and one serving police officer have been arrested as part of Scotland Yard's investigation into police corruption.
Willie Nelson and 300,000 Other Activists Sue Monsanto. FEB 13, 2012 - Willie Nelson, along with 300,000 other activists who support small family farms and a healthy and fair food system, sued food giant Monsanto in Federal Court in Manhattan on January 31, 2012. The suit seeks to protect the harassment and threatening manner agribusiness giant Monsanto has exhibited, with threatening to go after any small farms that contain any trace of what they claim to be their property, genetically modified seeds.
Willie and his campaign, Occupy The Food System, consists of many small groups, one being Food Democracy Now. All the activists are also fighting against Monsanto's spraying of "Roundup herbicides", which harm the soil, water and the farms around them.
Berlusconi could get five years - World News, Breaking News. Updated 01 December 2012 06:46 PM Prosecutor Fabio De Pasquale urged the court to find Mr Berlusconi guilty of having paid a British lawyer 600,000 dollars (£382,000) to lie in other trials involving charges of tax evasion and false accounting related to the billionaire media mogul's business dealings. The court is racing toward a verdict before the charges expire due to the statute of limitations.
Mr De Pasquale calculated that would happen by mid-July. This is one of several cases pending against Mr Berlusconi in Milan courts, including a trial on charges of having paid for sex with an underage prostitute. He stepped down in November after failing to persuade investors he could revive the ailing economy.
---