Bijoux
/// Bijoux en argent faits avec amour par Berenice par lunaticart. Bonjour, Thank you for your visit!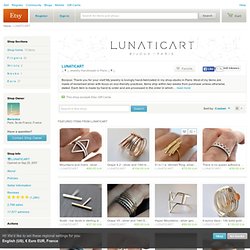 My jewelry is lovingly hand-fabricated in my shop-studio in Paris. Most of my items are made of reclaimed silver with focus on eco-friendly practices. Items ship within two weeks from purchase unless otherwise stated. Each item is made by hand to order and are processed in the order in which they are received. If you need it by a specific date please send me a message. Jayy2009. APRIL DEAL- SPEND over $75.00 (before shipping and tax), get ALL your shipping costs refunded!!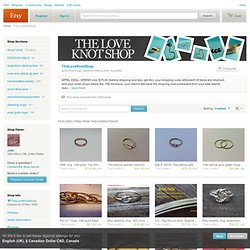 (if items are returned, and your order drops below the 75$ minimum, your refund will have the shipping cost subtracted from your total refund due) USE CODE FREESHIP You may choose to have 15% taken off your total order price by using code RTN15... SALE Coque feather collar by Kathycoleman. Black Lace Collar Neklace by callmemimi. Handmade black cute collar crocheted using a high quality italian cotton yarn. it closes with a vintage button that you can wear behind the neck or right in front!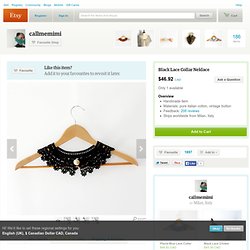 Circumference around the neck measures 43cm /16,9in, width of the crocheted stripe is 7cm / 2,7in. ARROW RING Copper and dipped rubber SEAFOAM by MijuAndYou. Kinetic Sequins Sterling Silver Band Ring by QuercusSilver. <div id="javascript-nag" class="notice"><p> Take full advantage of our site features by enabling JavaScript.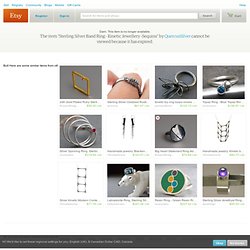 <a href=" more</a>. </p></div> Contemporary Illustrative Hand Crafted Jewellery by Joannarutter. Baby Skull Ring in Sterling Silver with by michellechangjewelry. Please read my shop announcement for delivery time.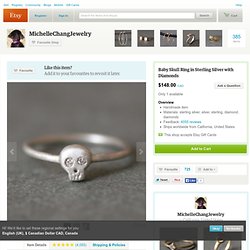 If you need it by a specific date, please contact me first. Thank you! Small skull ring in sterling silver with diamond eyes on a thin round shank. The skull measures approx. 1/4" high. Please specify ring size when ordering. Liquid silver heart ring with rose gold finish by jewelryjojo. Liquid silver necklace with rose gold finish by jewelryjojo. 14k GoldFilled Wide Band by kateszabone. <div id="javascript-nag" class="notice"><p> Take full advantage of our site features by enabling JavaScript.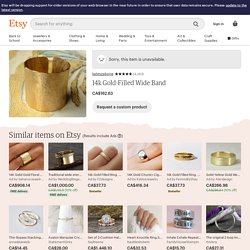 <a href=" more</a>. </p></div> Help Etsy. Super star necklace pink and white by LovelyFactory. New Baby Gift Personalized Bird by polkadotmagpie. <div id="javascript-nag" class="notice"><p> Take full advantage of our site features by enabling JavaScript.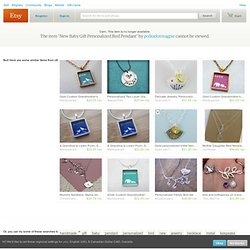 <a href=" more</a>. </p></div> Help Etsy Cart. PreskSolen. Christmas Pine Longing For Winter by sparklethots. Pine -- Longing For Winter ...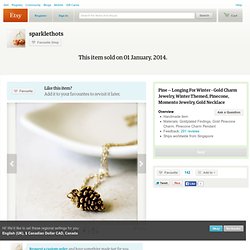 White powdered streets in the dead of winter. Always fantastised with beautiful pinetrees and their cones. Longing to remember a beautiful moment that took place in winter? This pinecone charm necklace has a silent, elegant beauty that is sure to entice. TheGoldenPlague by TheGoldenPlague. Jewellery can tell stories, express emotions and communicate ideas.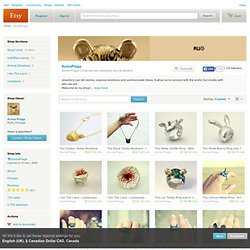 It allow us to connect with the world, but mostly with who we are. Welcome to my shop! You can see more of my work in my site You can also tweet me And follow my facebook fan page. I Miss You Made to Order in your size by ColleenBaran. "I Miss You'- Made to Order in your size Ring individually handmade of a custom made stamp and sterling silver.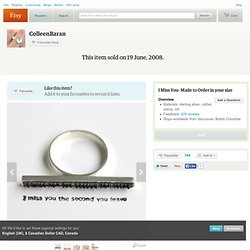 Bold and subtle and brave declarations of love to be left on bedside notes, at the bottom of a letter or a sweetheart's wrist, over their heart, along the nape of their neck... little traces of love left behind. To use:::Water based ink is best and can be supplied if desired. Simply White Felt and Gold Filled Earrings by 3FUN. <div id="javascript-nag" class="notice"><p> Take full advantage of our site features by enabling JavaScript. <a href=" more</a>. </p></div>
Hand crafted fashion interior accessories from England by MIXKO. Jewelry Metalwork Drawings by squirrelbunny. Hello, my name is Jessica Mehrtens and I am the creator of all things you will find at the Squirrel Bunny shop! I hope you will stick around and look at what I have for sale and maybe even add me as one of your favorite sellers. :) If you ever want to ask me anything, request a custom design, give me a suggestion or some critique, or just talk, please convo me! I would love to hear from anyone who wants to talk. Please visit my blog at www.squirrelbunny.blogspot.com. Wire Jewelry that Makes a Statement by PianoBenchDesigns. Welcome to my shop! If you are looking for high quality work, you've come to the right place. I do not use plated metal, only solid sterling silver and gold filled components.
Items are shipped within 3-5 business days of purchase. I am currently taking a limited amount of custom orders. If you are interested in custom work, please contact me and explain what it is that you have in mind. Ring Cloud Eco Friendly Sterling Silver Whimsical by Epheriell. This sweet cloud ring will add some whimsical shine to your life! My own original design, this ring has been completely hand-cut, fabricated, and finished by me in my home studio. Would make a gorgeous set with my Little Cloud Earrings - and Cloud Necklace - IMPORTANT: Please ensure you have read my policies regarding ring sizing etc prior to purchase - A set of whimsical mustache necklaces sterling by idlehandsdesigns. Elephantine.
---