Visites virtuelles
BnF : "Objets dans l'objectif"
Expo et visites virtuelles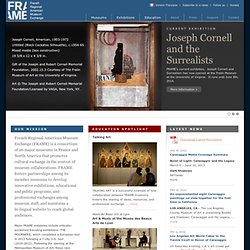 French Regional American Museum Exchange (FRAME) is a consortium of 26 major museums in France and North America that promotes cultural exchange in the context of museum collaborations. FRAME fosters partnerships among its member museums to develop innovative exhibitions, educational and public programs, and professional exchanges among museum staff, and maintains a bi-lingual website to reach global audiences. Major FRAME initiatives include critically-acclaimed traveling exhibitions. THE MOURNERS, which completed a European tour in 2013 following a 7-city U.S. tour (2010-2012).
FRAME
World Wonders Project : Château de Versailles
Maroc - Médina de Marrakech - Mosquée Hassan II - Volubilis Egypte - Musée égyptien du Caire - Musée de Louxor - Pyramides de Gizeh - Saqqarah - Karnak - Abou Simbel - Philae - Médinet Habou - Edfou - Memphis - Temple de la Reine Hatchepsout - Vallée des Rois - Croisière sur le Nil - Assouan - Louxor Etats-Unis New York - New York - World Trade Center - Central Park - Metropolitan Museum of Art - The Museum of Modern Art de New York (MoMA) - Statue de la Liberté - Ellis Island - Brooklyn Washington - National Gallery of Art Philadelphie - Philadelphie - Musée d'art de Philadelphie Chicago - Chicago - Art Institute of Chicago Las Vegas - Las Vegas San Francisco - San Francisco - Alcatraz - Palais californien de la Légion d'Honneur - The Museum of Modern Art de San Francisco (SFMoMA) - Musée des Arts Asiatiques de San Francisco (Asian Art Museum) Los Angeles - Los Angeles - Los Angeles County Museum of Art - J.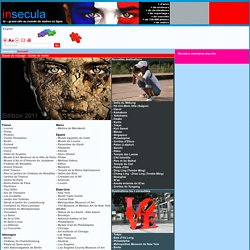 Le Musée Prado
Découvrez le musée Prado dans Google Earth Pour accéder aux chefs-d'œuvres du Musée Prado en plein écran et pour voir la reconstitution du musée en 3D, suivez les indications suivantes. J'ai déjà Google Earth | Je n'ai pas encore Google Earth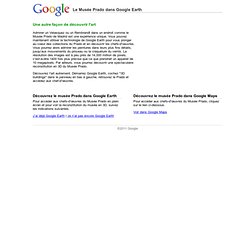 Musées entre Bordeaux & Bilbao
Scripturae : mille ans d'écriture