ADD
Meck.pdf (application/pdf Object) External ADHD Links | ADHD Websites | Daytrana.com. Use of the DAYTRANA® Patch The Daytrana patch contains a prescription central nervous system (brain) stimulant medicine used to treat ADHD in children and adolescents 6 to 17 years old.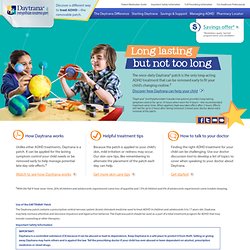 Daytrana may help increase attention and decrease impulsive and hyperactive behavior. The Daytrana patch should be used as a part of a total treatment program for ADHD that may include counseling or other therapies. Important Safety Information IMPORTANT: Daytrana is a controlled substance (CII) because it can be abused or lead to dependence. Attention Deficit Disorder Association: Welcome. The Combined Federal Campaign (CFC) is the largest workplace giving campaign in the world and an excellent and convenient way to support ADDA's mission to help adults with ADHD lead better lives.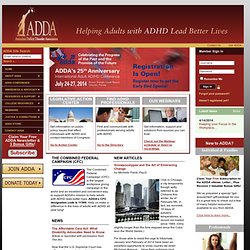 ADDA's CFC designation code is 11589. Help us make a difference in the lives of adults with ADHD all year long! The Affordable Care Act: What Disability Advocates Need to Know Article is reprinted with permission from The Arc. Los angeles Psychiatrists - Psychiatry near los angeles, CA (California) LD OnLine :: LD Topics. Kensington Coaching. Biofeedback - Bright Minds Institute. ADD and ADHD Center: Symptoms, Types, Causes, Tests, and Treatments.
Attention Deficit Hyperactivity Disorder: Symptoms of ADHD The symptoms of ADHD include inattention and/or hyperactivity and impulsivity.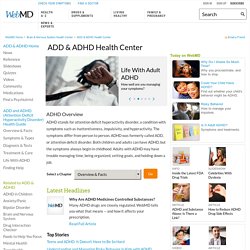 These are traits that most children display at some point or another. Adult ADHD - Organization, Career, and Relationship Advice.
---