Social Media Fails
Five reasons corporations are failing at social media. "It's not rocket surgery."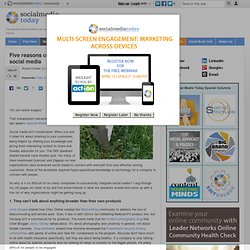 That malapropism became a bit of a mantra at last week's Inbound Marketing Summit. Social media isn't complicated. Médias sociaux > Nestlé et sa page Fan Facebook : pourquoi l'échec était-il inévitable ? Vous avez sûrement entendu parler à la fin de la semaine dernière du "fail" qu'a connu Nestlé sur Fan Page Facebook. de nombreux blogs ont relayé l'histoire, ce n'est donc pas nécessairement l'objet de revenir en détails sur l'histoire. je vous invite à consulter Nestle fails at Social Media et Five lessons from Nestle's Facebook PR disaster L'histoire en 4 points Tout est parti d'une vidéo dans le cadre d'une campagne Greenpeace visant à critiquer Nestlé (via la marque KitKat) utilisant de l'huile de palme dans ses produits, cause majeure de la déforestation;Les commentaires et l'invasion sur la page fan Facebook de Nestlé ont alors été très importants;Nestlé, dans un souci de dialogue et de transparence, n'a pas souhaité modérer ces commentaires;Devant le relais important sur la Toile vendredi, Nestlé a fermé sa Facebook Fan Page (le contraire de ce qu'il faut a priori faire – Kit de secours en cas de bad buzz).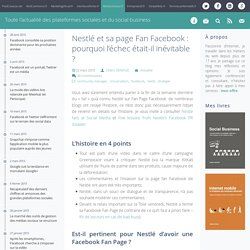 Est-il pertinent pour Nestlé d'avoir une Facebook Fan Page ? Ferrero Rocher, quand les réceptions de l'ambassadeur tournent au spamming sur Facebook. La page des célèbres rochers rassemble quasiment 3 millions de « likers ». (2 961 961 le 23 Juillet à 11h).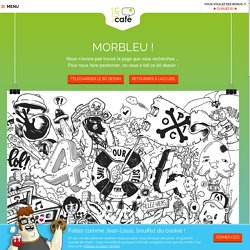 Depuis un peu plus d'une semaine la page a été prise d'assaut par des , proposant liens commerciaux ou non en tout genre mais n'ayant aucun lien (de près comme de loin) avec Ferrero. A l'heure actuelle, Ferrero ne s'est pas encore exprimé sur la page et aucune mesure de modération n'a encore été effectuée. Belkin: a case study in social media sin. The importance of online product reviews to retailers, manufacturers and consumers cannot be underestimated.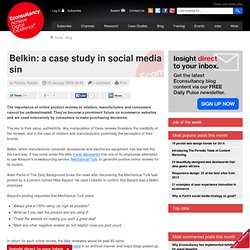 They've become a prominent fixture on ecommerce websites and are used extensively by consumers to make purchasing decisions.The key to their value: authenticity. Any manipulation of these reviews threatens the credibility of the reviews, and in the case of retailers and manufacturers, potentially the perception of their brands. Belkin, which manufactures computer accessories and electronics equipment, has learned this the hard way.
It has come under fire after it was discovered that one of its employees attempted to use Amazon's crowdsourcing service, Mechanical Turk, to generate positive online reviews for its routers. Arlen Parsa of The Daily Background broke the news after discovering the Mechanical Turk task posted by a a person named Mike Bayard. How to Be in the Right 50% of Social Media Marketing Campaigns. Yesterday, CNET reported that Adam Serner of Gartner will be presenting on social media marketing next week with the prediction that while over 75% of Fortune 1000 companies with Web sites will attempt an online social-networking campaign, 50 percent will fail.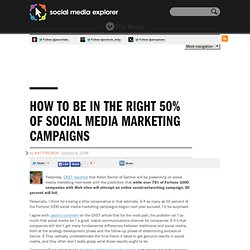 Personally, I think he's being a little conservative in that estimate. Â If as many as 50 percent of the Fortune 1000 social media marketing campaigns begun next year succeed, I'd be surprised. I agree with Jason's comment on the CNET article that for the most part, the problem isn't so much that social media isn't a good, viable communications channel for companies. Â It's that companies still don't get many fundamental differences between traditional and social media, both at the strategy development phase and the follow-up phase of determining success or failure. Superlist of What NOT To Do In Social Media (UPDATED) Are you using content marketing as part of your digital strategy to grow your business?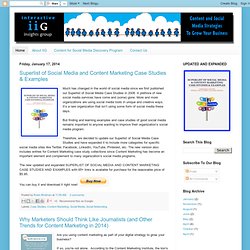 If so, you're not alone. According to the Content Marketing Institute, the lion's share of marketers (some 92%) report using content marketing. In the fast moving world of digital strategy, things are always changing. What should you expect in 2014 to change in the world of content marketing? Hana Abaza of Uberflip has put together an infographic detailing five key content marekting trends for the coming year. Pourquoi les entreprises se plantent sur les médias sociaux en général et Twitter en particulier. Ce matin, deux articles attirent mon attention et ont trait aux médias sociaux.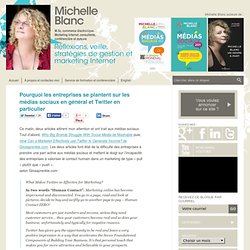 Tout d'abord, Why Big Brands Struggle With Social Media de Mashable puis, How Can a Marketer Effectively use Twitter to Generate Income? De Ginasprenkle.com. Les deux articles font état de la difficulté des entreprises à prendre une part active aux médias sociaux et mettent le doigt sur l'incapacité des entreprises à valoriser le contact humain dans un marketing de type « pull » plutôt que « push ». selon Ginasprenkle.com : What Makes Twitter so Effective for Marketing?
Le cas FedEx qui écoute son agence RP sur Twitter.
---