Facebook operations
Domino's UK Searching For Superfans, Rewarding Fans With Coupon Codes. Domino's UK Searching For Superfans, Rewarding Fans With Coupon Codes Domino's Pizza UK and Ireland is sponsoring a new application that challenges Facebook users to become "Superfans" of the brand, with prizes for the male and female contestants who recruit the most fans to the Domino's Page.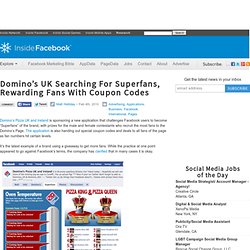 The application is also handing out special coupon codes and deals to all fans of the page as fan numbers hit certain levels. It's the latest example of a brand using a giveaway to get more fans. While the practice at one point appeared to go against Facebook's terms, the company has clarified that in many cases it is okay. The first coupon available is a discount off the total order should fan numbers reach 20,000. 1-800-Flowers blooms with Facebook transactions - DMNews. Facebook Fan Page : VitaminWater un exemple à suivre | Akostic.c. A plusieurs reprises, j'ai eu l'occasion de consulter la page fan de Vitamin Water.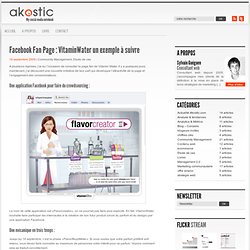 Il y a quelques jours maintenant, j'ai découvert une nouvelle initiative de leur part qui développe l'attractivité de la page et l'engagement des consommateurs. Une application Facebook pour faire du crowdsourcing : Le nom de cette application est «Flavorcreator», on ne pourrait pas faire plus explicite. En fait, VitaminWater souhaite faire participer les internautes à la création de son futur produit (choix du parfum et du design) par une application Facebook. Une mécanique en trois temps : E-commerce et facebook : les ventes privées de La Redoute.
---