Crowdsourcing / Marketing participatif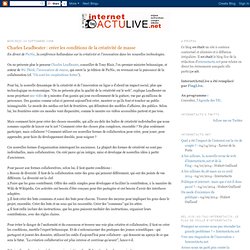 En direct de PicNic, la conférence hollandaise sur la créativité et l'innovation dans les nouvelles technologies. On ne présente plus le penseur Charles Leadbeater, conseiller de Tony Blair, l'ex-premier ministre britannique, et auteur de We Think, l'innovation de masse, qui ouvre la 3e édition de PicNic, en revenant sur la puissance de la collaboration (cf.
Créer les conditions de la créativité de masse
Making crowdsourcing work. My best practices
I've been advising several clients on crowdsourcing initiatives recently.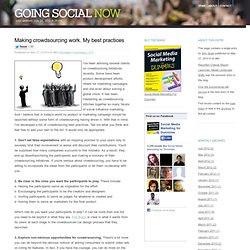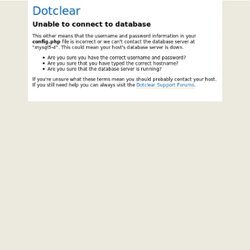 This either means that the username and password information in your config.php file is incorrect or we can't contact the database server at " mysql5-4 ".
Les limites de la cocréation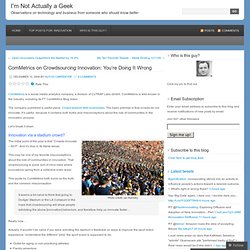 Crowdsourcing Innovation: You're Doing It Wrong «
i Rate This
Open Innovation, crowdsourcing, co-creation… overlapping terminologies to describe a trend towards more open business models and a closer collaboration with customers. On this page we gather a list of inspiring examples Jump to the Open innovation Examples list Tip us about other initiatives (info@boardofinnovation.com – or twitter: @philderidder).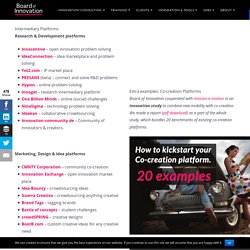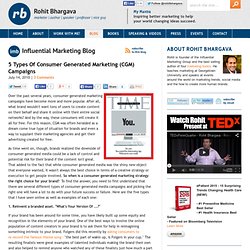 5 Types Of Consumer Generated Marketing Campaigns
July 14, 2010 | 3 Comments Over the past several years, consumer generated marketing campaigns have become more and more popular. After all, what brand wouldn't want tons of users to create content on their behalf and share it online with their entire social networks? And by the way, these consumers will create it all for free.
Just as I was researching a column for the Guardian on Starbucks' MyStarbucksIdea and Dell's IdeaStorm — both of which use Salesforce.com's Ideas platform — I got an email from Business Week asking me to write about Starbucks. So here's a twofer: my Guardian column about this new platform for customers to share ideas (and my wish that it would come to government) and the Business Week story about Starbucks. Here are some added quotes from my interviews.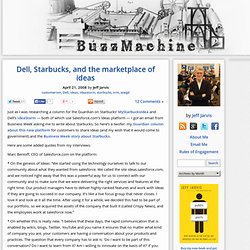 Dell, Starbucks, and the marketplace of ideas
Digg Dialogg, les interviews générées par les utilisateurs
Mercredi 27 août Buzz - 27 août 2008 :: 09:28 :: Par Eric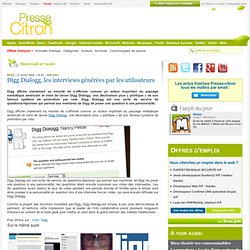 01net. le 08/09/09 à 18h46
Virgin Radio et RFM se mettent à Internet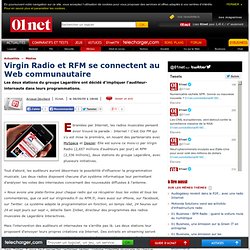 Innovation, Crowdsourcing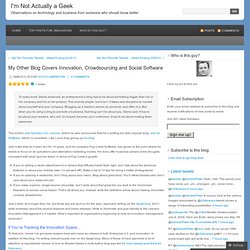 i