Community Management
Plateformes et fonctionnalités
Community Manager. Why people participate in online communities. My dear friend Yaniv Golan, CTO of Yedda, had given a brilliant presentation regarding Incentives In Online Social Communities a few weeks ago at The Marker COM.vention and since it's unfortunately in Hebrew, I wanted to translate it, include some of my own additions, and share it with you.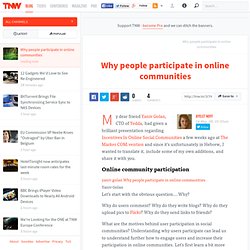 Online community participation Yaniv Golan Let's start with the obvious question….Why? Guide to Using Community for Marketing. We were at the Community2.0 conference in Las Vegas.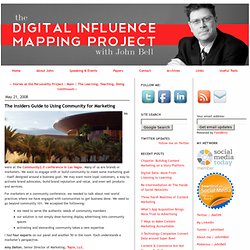 Many of us are brands or marketers. We want to engage with or build community to meet some marketing goal - itself designed around a business goal. We may want more loyal customers, a way to activate brand advocates, build brand reputation and value, and even sell products and services. For marketers at a community conference, we needed to talk about real-world practices where we have engaged with communities to get business done. Twelve best practices for online customer communities. One of the more significant Web 2.0 trends in business this year has been the advent of the Web-based customer community, where groups of like-minded individuals focus around a brand or a set of product and services come together and interact online.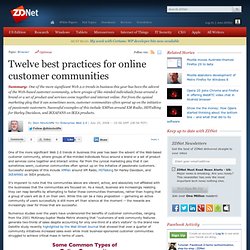 Far from the cynical marketing ploy that it can sometimes seem, customer communities often sprout up on the initiative of passionate customers. Successful examples of this include XMFan around XM Radio, HDTalking for Harley-Davidson, and IKEAFANS on IKEA products. Eight Considerations to Help Branded C. Community building: Getting members active and addicted | Community Building. This is the tenth article in what I hope will be an indefinite series about the processes involved in developing a new online community from scratch.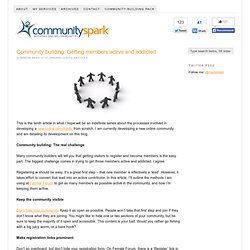 I am currently developing a new online community and am detailing its development on this blog. Community building: The real challenge. How to Kill A Community in 10 Easy Steps. There has been a lot of buzz lately about the how many empty or failed online communities litter the web.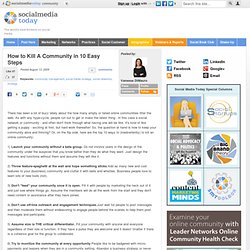 As with any hype-cycle, people run out to get or make the latest thing - in this case a social network or community - and often don't think through what having one will be like. It's kind of like getting a puppy - exciting at first, but hard work thereafter! So, the question at hand is how to keep your community alive and thriving? Or, on the flip side, here are the top 10 ways to (inadvertently) to kill an online community: Dynamique participative : le jeu de l'ego. L'ego reste un levier incontournable si l'on veut asseoir une dynamique participative à un site communautaire.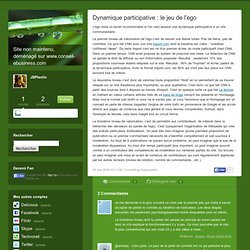 Le premier niveau de valorisation de l'ego c'est de laisser une liberté totale. Pas de freins, pas de contrôles. Ce qu'a fait CNN avec son site Ireport.com dont la baseline est claire : "unedited. Unfiltered. News". Digital Embassies: A Blueprint For Community Engagement. Upon first arriving at Edelman, I noticed that our language was a bit different when talking about community aspects of social media.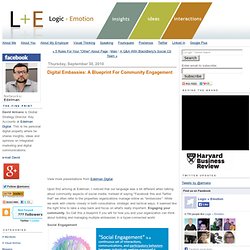 Instead of saying "Facebook this and Twitter that" we often refer to the properties organizations manage online as "embassies". While we work with clients closely in both consultative, strategic and tactical ways, it seemed like the right time to take a step back and focus on what's really important.
---