Bored
SunnyNeo.com - Neopets Help, Avatars, Graphics & Game Guides!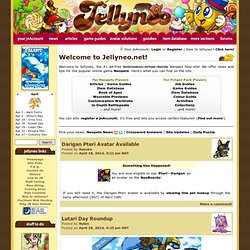 Jellyneo.net | Neopets Help, Neopets Guides, Neopets Avatar Solutions, and Neopets News!
The winners are finally here for our 2014 Build a Species contest! Many congrats to the top 3: Thank you to all who participated, both those who submitted entries and those who rated! All trophies have been awarded. So, if you rated all 492 pets in time, you should have your trophy. If you submitted an entry, you also received a shiny new trophy cabinet, which you may enable from your Account Settings page.
Dear school system, Please consider adding a mandatory class in basic logical argumentation. A lot of people apparently need lessons on things like burden of proof. Sincerely, Tired of "here's my stance, now prove me wrong" Dear Mom, So, because you can't complain about my straight-A grades, my use (or lack thereof) of drugs/alcohol, or my future plans of going to college on a scholarship, you decide to complain about how much time I'm spending at church..?