Cdein
Christian Dein
The Web Is Dead. Long Live the Internet | Magazine. Who's to Blame:Us As much as we love the open, unfettered Web, we're abandoning it for simpler, sleeker services that just work. by Chris Anderson You wake up and check your email on your bedside iPad — that's one app.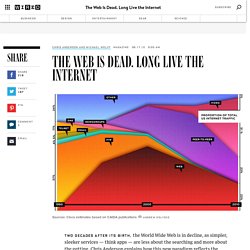 Information Explosion & Cloud Storage.
Servlet Container
Search. REST. Data storage. Help. Trappi.
---