Photographie
iSupr8. Description Créez de nouveaux souvenirs avec une touche rétro pour la famille et les amis.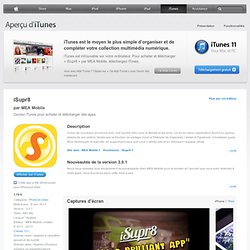 Un écran dans l'application fournit un aperçu simple de vos vidéos, tandis que la fonction de partage inclut la Pellicule de d'appareil, l'email et Facebook. Choisissez quels films développer et exporter, en supprimant ceux que vous n'aimez pas et en réduisant l'espace utilisé. NOUVEAUTÉS DE LA VERSION 2.0⊗ Fréquence image/seconde réglable: 12/18/24 FPS⊗ Stock de film personnalisable: Ajustez les rayures, la vignette, le grain & plus encore! ⊗ Préréglages du Design & de la Sauvegarde du film⊗ Options brûlure, importance et cadrage du film ⊗ Nouveaux stocks de film disponibles⊗ Intégration communautaire et de partage avancée avec iSupr8. Zoom Photo. Description Zoom Photo allows you to zoom in on your subject while taking a photo with your iPhone.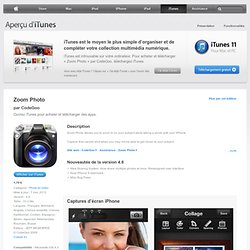 Capture that candid shot when you may not be able to get closer to your subject. ArcFrame Lite. Snapseed. Description ** Meilleure application photo mobile 2012 ** (TIPA)** Application iPad de l'année !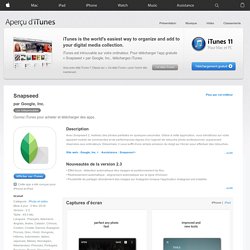 ** Snapseed est désormais gratuit et comprend de nouvelles fonctions, notamment le nouveau filtre Rétrolux, un filtre Bordures mis à jour ainsi que l'intégration à Google+. Moodboard Lite. Description Moodboard Lite is the free version of the bestselling app for creating mood and inspiration boards on your iPad.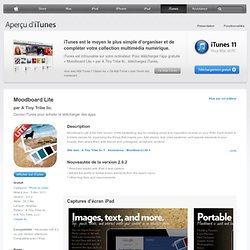 Each board is a blank canvas for organizing the things that inspire you. Add photos, text, color swatches, and special elements to your boards, then share them with friends and colleagues, anywhere, anytime. Moodboard is perfect for:- Wedding planning- Home redecorating projects.- Designing beautiful websites.- Creating stunning photo collages.- Choosing the perfect vacation destination.- Replacing the tired family cork board.- And so much more. Moodboard is loved by creative professionals around the world, including:- Wedding and Event Planners- Web and Graphic Designers- Photographers- Fashion Designers- Travel Agents- Life Coaches- Teachers and Artists- And countless others.
PhotoPad. Photosynth. Description Interactive Panorama Capture and Sharing, with new Social Features!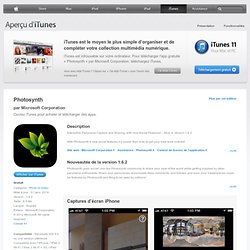 – Now in Version 1.6.2 With Photosynth's new social features it's easier than ever to get your best work noticed! Photosynth for iOS is the panorama creation app that makes it easy and fun to capture and share interactive panoramas of the places, people, and events that are important to you. XnView Photo Fx.
Description XnView photo Fx est le compagnon idéal de votre bibliothèque de photos, l'édition n'a jamais été aussi facile.Il a les ajustements et effets les plus variées, et est facile à utiliser.Créez de superbes images avec un effet vintage, ajouter des filtres artistiques ou améliorer vos photos avec des outils professionnels.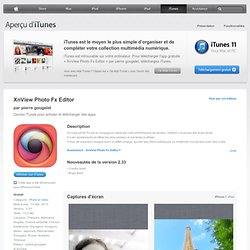 Aucune inscription n'est requise, aucune publicité, pas de filigranes, pas de limites, totalement GRATUIT. ----- Ce que les utilisateurs disent ----- Géant - Cette application me ravie, elle est superbe.
---