Photographie
iSupr8
Zoom Photo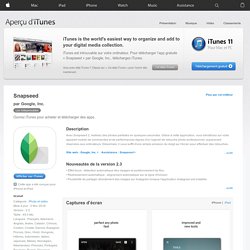 Snapseed
Description ** Meilleure application photo mobile 2012 ** (TIPA) ** Application iPad de l'année !** Snapseed est désormais gratuit et comprend de nouvelles fonctions, notamment le nouveau filtre Rétrolux, un filtre Bordures mis à jour ainsi que l'intégration à Google+.
Moodboard Lite
Photosynth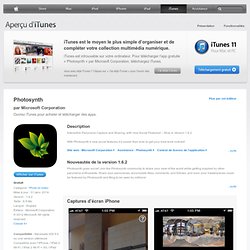 Description Interactive Panorama Capture and Sharing – Now in Version 1.1.4 #2 iPhone App of 2011 – Brad Spirrison, TechCrunch Top 10 iPhone App of 2011 – Bob Tedeschi, New York Times Over 7 Million Downloads, 4.71 Out of 5 Stars in the App Store Photosynth for iOS is the panorama creation app that makes it easy and fun to capture and share interactive panoramas of the places, people, and events that are important to you. Using the latest in computer vision techniques, you can not only make a panorama from left to right, but also up and down, enabling you to capture a full "sphere".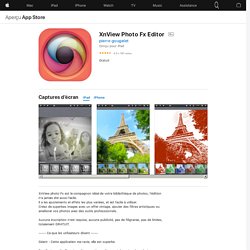 XnView Photo Fx
Description XnView photo Fx est le compagnon idéal de votre bibliothèque de photos, l'édition n'a jamais été aussi facile. Il a les ajustements et effets les plus variées, et est facile à utiliser.