Sustainability Research
Paul Stamets: 6 ways mushrooms can save the world.
Buying Land to Proliferate Habitat
Suppressed technologies Air cars. Air cars Cars that run on air?
"The air car revolution is about to happen. " The BBC reported on the French version of this technology. Eco Education. EcoFarm Tour 2011: Organic Cheese and Sheep Udders – EcoLocalizer. Animals Published on January 31st, 2011 | by Rhonda Winter As part of the EcoFarm Conference last week, I had the opportunity to see several local organic farms.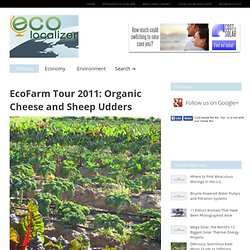 Maps - Global Legacy of Past Civilizations. Environmental Visualization Laboratory - Massive Winter Storm Affecting Large Portion of U.S. Planting Seeds of Hope: How Sustainable Activism Transformed Detroit by Grace Lee Boggs and Scott Kurashige. After the death throes of urban decay, what the Motor City can teach us about vision, community, and the power of movements. posted Jun 16, 2011 Projects like the Brother Nature Produce urban garden near downtown Detroit are part of the explosive movement towards agricultural revitalization that has spread as a result of active community building throughout the city.
In 1988, we in Detroit were at one of the great turning points in history. Detroit's deindustrialization, devastation, and depopulation had turned the city into a wasteland, but it had also created the space and place where there was not only the necessity but also the possibility of creating a city based not on expanding production but on new values of sustainability and community. Instead of investing our hopes in GM, Ford, and Chrysler and becoming increasingly alienated from each other and the Earth, we needed to invest in, work with, and rely on each other.
Isaac Asimov
Smart Grids & Wind Power. POOP BURGER: Japanese Researchers Create Artificial Meat From Human Feces. Some hardcore carnivores have a hard time finding meat alternatives such as soy protein or tofu burgers to be palatable.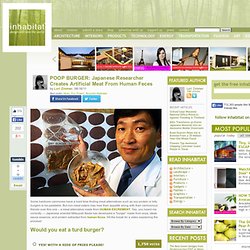 But non-meat eaters may lose their appetite along with their carnivorous friends over this one – a meat alternative made from HUMAN EXCREMENT. Yep, you heard me correctly — Japanese scientist Mitsuyuki Ikeda has developed a "burger" made from soya, steak sauce essence, and protein extracted from human feces. Hit the break for a video explaining the process! New York City's Dragonfly A Locavore Wet Dream. Photo courtesy of: Vincent Callebaut Architectures Architect Vincent Callebaut will have locavores drooling if his 128-floor vertical farm concept is actually realized.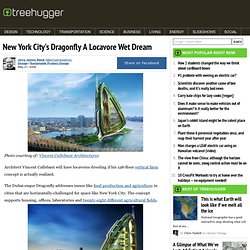 The Dubai-esque Dragonfly addresses issues like food production and agriculture in cities that are horizontally-challenged for space like New York City. Boat Concept Produces More Energy than it Uses. Last year, we told you about Vincent Callebaut's amazing 128-floor vertical farm concept to green the New York City skyline.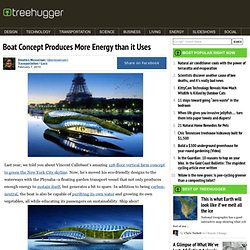 Now, he's moved his eco-friendly designs to the waterways with the Physalia--a floating garden transport vessel that not only produces enough energy to sustain itself, but generates a bit to spare. In addition to being carbon-neutral, the boat is also be capable of purifying its own water and growing its own vegetables, all while educating its passengers on sustainability. Maine town becomes first to declare food sovereignty. (NaturalNews) The town of Sedgwick, Maine, currently leads the pack as far as food sovereignty is concerned.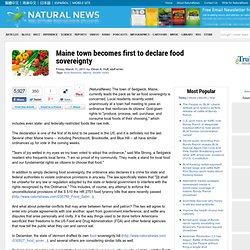 Local residents recently voted unanimously at a town hall meeting to pass an ordinance that reinforces its citizens' God-given rights to "produce, process, sell, purchase, and consume local foods of their choosing," which includes even state- and federally-restricted foods like raw milk. The declaration is one of the first of its kind to be passed in the US, and it is definitely not the last. Several other Maine towns -- including Penobscott, Brooksville, and Blue Hill -- all have similar ordinances up for vote in the coming weeks. Panic stations! New theory behind climate change. The Earth's magnetic pole is inexplicably shifting, creating unstoppable forces generating monster storms which we have seen at the beginning of 2011.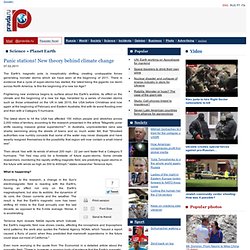 There is evidence that a cycle of super-storms has started, the latest being the gigantic ice storm across North America. Is this the beginning of a new Ice Age? Frightening new evidence begins to surface about the Earth's wobble, its effect on the climate and the beginning of a new Ice Age, heralded by a series of monster storms such as those unleashed on the UK in late 2010, the USA before Christmas and now again at the beginning of February and Eastern Australia, first with its worst flooding ever and then with a Category 5 hurricane. The latest storm to hit the USA has affected 150 million people and stretches across 2,000 miles of territory, according to the research presented in the article "Magnetic polar shifts causing massive global superstorms"*.
Reader. The Post Carbon ReaderManaging the 21st Century's Sustainability Crises Edited by Richard Heinberg and Daniel Lerch.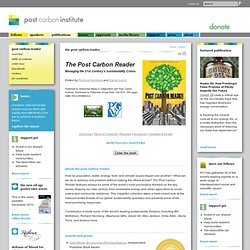 Published by Watershed Media in collaboration with Post Carbon Institute. Naturally Occurring Anomalies Within Nature. Population. Endangered Species & Biodiversity. Water. BP Oil Aftermath. Global Weirding.
Deep Sea Mining. Rare-Earth Minerals.
---