Natural or Manmade?
The Eltanin Enigma | Articles
Whitley Strieber, whose 1987 book Communion did so much to make intergalactic grey dwarves a subject of dinner-table chatter in even the best-regulated households, is clearly a man prepared to entertain many rare and unusual ideas.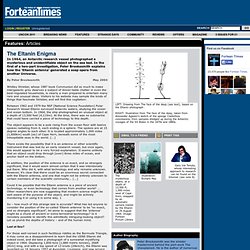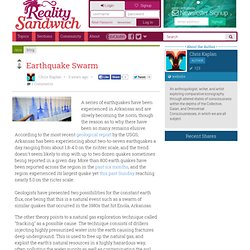 Earthquake Swarm
A series of earthquakes have been experienced in Arkansas and are slowly becoming the norm, though the reason as to why there have been so many remains elusive. According to the most recent geological report by the USGS, Arkansas has been experiencing about two-to-seven earthquakes a day ranging from about 1.8-4.0 on the richter scale, and the trend doesn't seem likely to stop with up to two dozen quakes sometimes being reported in a given day. More than 800 earth quakes have been reported across the region in the past six months, and the region experienced its largest quake yet this past Sunday reaching nearly 5.0 on the ricter scale.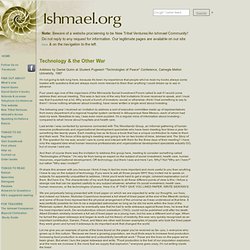 Ishmael.org
Address by Daniel Quinn at Student Pugwash "Technologies of Peace" Conference, Carnegie Mellon University, 1997
Court ruling: 'Destruction of Earth is in no way attributable to US government'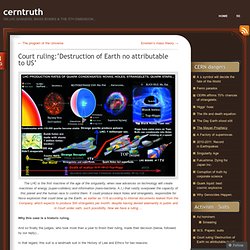 The LHC is the first machine of the age of the singularity, when new advances on technology will create machines of energy (super-colliders) and information (nano-bacteria, A.I.) that vastly overpower the capacity of this planet and the human race to control them. It could produce black holes and strangelets, responsible for Nova explosion that could blow up the Earth, as earlier as 11/9 according to internal documents leaked from the Company, which expects to produce 500 strangelets per month, despite having denied adamantly in public and in Court under oath, such possibility. Now we have a ruling…. Why this case is a historic ruling.
UFO-Like Clouds Linked to Military Maneuvers?
Three nearly identical, UFO-like cloud formations recently appeared over Myrtle Beach, South Carolina, sparking online discussions linking the features to everything from the Second Coming to recent mass bird deaths to secret military experiments. At least one scientist believes the so-called hole-punch clouds have a military explanation, though it may not be quite what conspiracy theorists expect.