Specific issues
WScript.Shell Run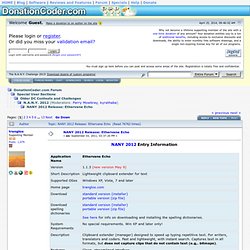 NANY 2012 Pledge & Early Beta: Ethervane Echo
A few tips: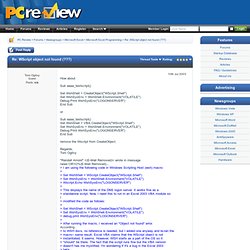 How about Sub aaaa_testscript()
Re: WScript object not found (???)
ThE macro BELOW opens the correct email with a zipped attachment, copies the zipped file to a directory and runs the GREENSHT.BAT. It does what it is supposed to do but the strange (unknown) issue is when the BAT file is run using this macro it does not function correctly (winzip opens with a blank file named GREENSHT.ZIP). When I run the batch file (by double clicking it) it works perfectly: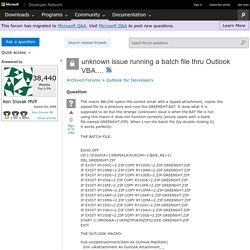 unknown issue running a batch file thru Outlook VBA....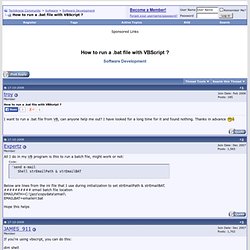 How to run a .bat file with VBScript ? - Software Development
If you're using vbscript, you can do this:
command line in shortcut - Page 2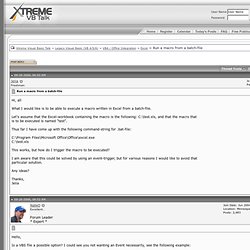 Run a macro from a batch-file - Xtreme Visual Basic Talk
Thanks NateO! I took it to the test; by making a simple script, saved it as a .vbs-file, and then defined the job in windows scheduler.
command line - How can I open a message box in a Windows batch file