SOPA Related
Amidst SOPA, PIPA Blackouts, Issa Introduces Rival OPEN Act. Amidst today's Web blackouts, Rep.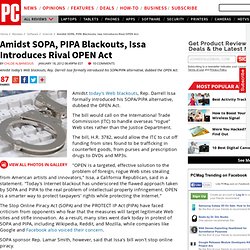 Darrell Issa formally introduced his SOPA/PIPA alternative, dubbed the OPEN Act. The bill would call on the International Trade Commission (ITC) to handle overseas "rogue" Web sites rather than the Justice Department. The bill, H.R. 3782, would allow the ITC to cut off funding from sites found to be trafficking in counterfeit goods, from purses and prescription drugs to DVDs and MP3s.
"OPEN is a targeted, effective solution to the problem of foreign, rogue Web sites stealing from American artists and innovators," Issa, a California Republican, said in a statement. Amidst SOPA, PIPA Blackouts, Issa Introduces Rival OPEN Act. SOPA Uncensored: You Speak Out. Several internet giants either blacked out today, or came out strongly against SOPA and PIPA.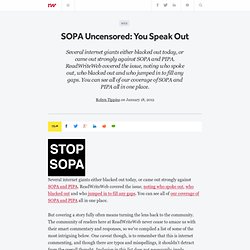 ReadWriteWeb covered the issue, noting who spoke out, who blacked out and who jumped in to fill any gaps. You can see all of our coverage of SOPA and PIPA all in one place. SOPA Sponsor Calls Protests a 'Publicity Stunt' as Google Joins Up. Google on Tuesday confirmed that it too will join Wednesday's SOPA/PIPA protest.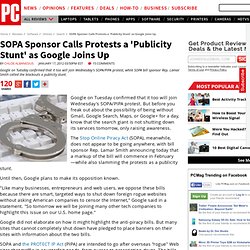 But before you freak out about the possibility of being without Gmail, Google Search, Maps, or Google+ for a day, know that the search giant is not shutting down its services tomorrow, only raising awareness. The Stop Online Piracy Act (SOPA), meanwhile, does not appear to be going anywhere, with bill sponsor Rep. Lamar Smith announcing today that a markup of the bill will commence in February—while also slamming the protests as a publicity stunt.
Until then, Google plans to make its opposition known. The Broadcast World Takes Interest in the SOPA/PIPA Debate. There are parts of the world where it's understandably difficult for the topic of Internet piracy, or the theft of U.S. intellectual property, to be elevated to critical significance.
There is still rioting in Syria, a cruise ship has run aground killing some passengers, and Japan is still struggling to emerge from the devastation of the tsunami. But Saturday's statement from the Obama Administration awakened many broadcast organizations to a strange and, for some, unexplored new question: Is the U.S. truly planning to implement legislation that could shut parts of the Internet off? That's how the Saturday statement truly appeared for some who had not been following the goings-on (such as they are) in the U.S.
Congress. SOPA Resurrected as Google and Others Join Protests. U.S.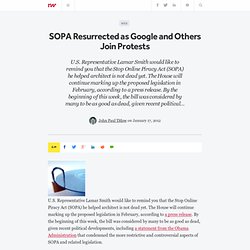 Representative Lamar Smith would like to remind you that the Stop Online Piracy Act (SOPA) he helped architect is not dead yet. The House will continue marking up the proposed legislation in February, according to a press release. By the beginning of this week, the bill was considered by many to be as good as dead, given recent political developments, including a statement from the Obama Administration that condemned the more restrictive and controversial aspects of SOPA and related legislation. The news comes a matter of hours before the start of what is expected to be a widespread, Web-based protest against the anti-piracy legislation. DIY Projects, Inspiration, How-tos, Hacks, Mods & More @ Makezine.com - Tweak Technology to Your Will. MAKE Goes Dark in Protest to SOPA/PIPA. Tomorrow, from 8am to 8pm EST, the MAKE sites will go dark, joining all of O'Reilly Media, and many other sites, like Wikipedia, Reddit, Boing Boing, Tucows, Twitpic, and more, in protest over the SOPA and PIPA bills now before the House and Senate.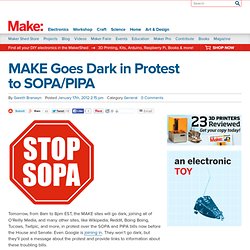 Even Google is joining in. They won't go dark, but they'll post a message about the protest and provide links to information about these troubling bills. This isn't an action we take lightly. But we believe that SOPA, "Stop Online Piracy Act" (H.R. 3261), and PIPA, "PROTECT IP Act" (S. 968), are potentially poisonous to many of the things that we stand for. SOPA blackouts begin as MPAA calls foul. It's Wednesday morning, and if you've done much more than visit ExtremeTech straightaway, you've probably noticed the blackouts, protests, and informational postings about SOPA at a number of sites.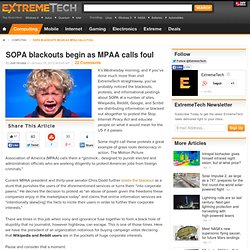 Wikipedia, Reddit, Google, and Scribd are distributing information or blacked out altogether to protest the Stop Internet Piracy Act and educate people on what it would mean for the US if it passes. Some might call these protests a great example of grass roots democracy in action. The Motion Picture Association of America (MPAA) calls them a "gimmick… designed to punish elected and administration officials who are working diligently to protect American jobs from foreign criminals." Stop the Internet Blacklist Legislation. Who's Going Dark to Protest SOPA, PIPA? As many as 7,000 Web sites could go dark today in protest of the Stop Online Piracy Act (SOPA) and the PROTECT IP Act (PIPA), according to community organizers.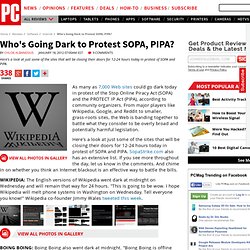 From major players like Wikipedia, Google, and Reddit to smaller, grass-roots sites, the Web is banding together to battle what they consider to be overly broad and potentially harmful legislation. Here's a look at just some of the sites that will be closing their doors for 12-24 hours today in protest of SOPA and PIPA. SopaStrike.com also has an extensive list. If you see more throughout the day, let us know in the comments. Stop SOPA: What A Blacked Out Internet Looks Like. The Internet is fighting back.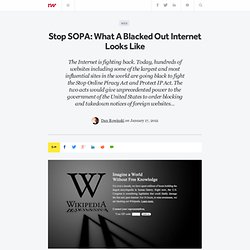 Today, hundreds of websites including some of the largest and most influential sites in the world are going black to fight the Stop Online Piracy Act and Protect IP Act. The two acts would give unprecedented power to the government of the United States to order blocking and takedown notices of foreign websites found to be infringing on copyrighted material such as movies and music. The drumbeat is loud and most of the U.S. technology industry has come out against SOPA/PIPA. MPAA: SOPA, PIPA Blackouts Are 'Abuse of Power' Web sites from Wikipedia to Reddit are dark today in protest of the Stop Online Piracy Act (SOPA) and the PROTECT IP Act (PIPA), but bill supporters insist the effort is nothing but a publicity stunt and an abuse of power.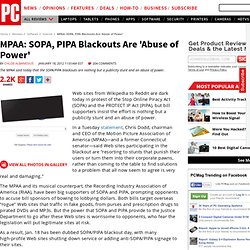 In a Tuesday statement, Chris Dodd, chairman and CEO of the Motion Picture Association of America (MPAA)—and a former Connecticut senator—said Web sites participating in the blackout are "resorting to stunts that punish their users or turn them into their corporate pawns, rather than coming to the table to find solutions to a problem that all now seem to agree is very real and damaging. " The MPAA and its musical counterpart, the Recording Industry Association of America (RIAA), have been big supporters of SOPA and PIPA, prompting opponents to accuse bill sponsors of bowing to lobbying dollars. Top 5 Objections to SOPA, PIPA. Thousands of Web sites have pledged to go dark today in opposition to pending anti-piracy bills currently making their way through Congress. Reddit, Wikipedia, Mozilla, and WordPress are just a few of the sites that will be inaccessible on Wednesday in protest of the Stop Online Piracy Act (SOPA) and the PROTECT IP Act (PIPA).
The bills would allow the Justice Department to obtain a court order and go after overseas, "rogue" Web sites that traffic in fake goods, from purses to prescription drugs. The DOJ could have these sites removed from search engines, while copyright holders could have the agency target sites they believe to contain infringing content. Detractors believe SOPA and PIPA are too broad and could have unintedned consequences for legitimate sites. Most are in agreement that something needs to be done about Web sites offering pirated goods, but how exactly to accomplish that goal remains a sticking point. With Today's Protests, SOPA Becomes a Mainstream Issue. Something big is happening on the Internet today, as you may have noticed. Yes, the English version of Wikipedia is blacked out, as are Craigslist, Reddit, Boing Boing and O'Reilly Radar.
Google, Mozilla, Wired.com and Wordpress all have put up some kind of anti-SOPA graphic or statement. Many of those that aren't blacking out text or turning their sites off are nonetheless posting updates expressing sympathy for the movement. Where Do You Stand on SOPA, PIPA? Wednesday is Internet blackout day for many Web sites—from Reddit to Wikipedia to Mozilla, all of which object to the Stop Online Piracy Act (SOPA) and the PROTECT IP Act (PIPA). Google has also pledged to voice its opposition by altering its homepage.
The bills would allow the Justice Department to obtain a court order and go after overseas, "rogue" Web sites that traffic in fake goods, from purses to prescription drugs. How One Higher Education Institute Is Protesting SOPA/PIPA. Today hundreds of websites are participating in a virtual anti-SOPA/PIPA sit-in: Google, Reddit, Craigslist, Wikipedia, WordPress, Mozilla, MoveOn.org, O'Reilly and The Oatmeal, to name a few. Syracuse University's School of Information Studies (iSchool) is the only higher education institute to join the list of Internet powerhouse sites. Syracuse's iSchool offers undergraduate and graduate degrees in information technology and graduate degrees in library science with an emphasis in new/digital librarianship. Flickr SOPA Protest Lets You Black Out Photos.
Flickr is joining today's protests of the Stop Online Piracy Act (SOPA) and PROTECT IP Act (PIPA), but rather than blacking out the Yahoo-owned photo site, Flickr is allowing members to darken existing photos. "Flickr is letting members darken their photos — or the photos of others—for a 24-hour period to deprive the web of the rich content that makes it thrive," the company said in a blog post. On Twitter, some users were puzzled by the choice, arguing that allowing users to blacken out photos was itself a form of censorship. But Flickr said "your symbolic act will help draw attention to this issue and let others know about the potential harmful impacts of these bills. " What I Wish Wikipedia and Others Were Saying About SOPA/PIPA. Facebook's Zuckerberg Formally Opposes SOPA, PIPA. SOPA's Dark Day On the Internet. What Mark Zuckerberg Says About SOPA/PIPA.
SOPA STRIKE - Largest online protest in history - January 18 - blackout your site. More Sites Going Dark Over SOPA and PIPA, But Not Twitter. Not Taking Any Chances, Wikipedia Kicks SOPA While Its Down. The internet wins: SOPA has been shelved, but we must remain vigilant. Murdoch Slams Google, White House Over Piracy, SOPA. The President's Post-SOPA Challenge: All Right, You Come Up with a Solution! Wikipedia Also Going Dark Wednesday Over SOPA, PIPA. White House Strangles SOPA, Citing Censorship, Security Concerns. Facebook Plans Press Event on 'SOPA Blackout Day' White House Jumps Into SOPA, PIPA Debate. The Pirate Bay: Sailing away from torrent files next month. Lawmaker Strips DNS Blocking From SOPA. Ex Post PIPA: What Happens to Anti-Piracy Now? Tech Company PACs Donate To SOPA/PIPA Sponsors. Dutch Court Orders ISPs to Block The Pirate Bay.
Will Reddit's SOPA Blackout Make a Difference? Reddit Going Dark Jan. 18 to Protest SOPA. SOPA. Follow The Money To Figure Out Why Lawmakers Support SOPA. Hackers Propose Out-Of-This-World Way To Circumvent SOPA. Find Out Where Your Legislators Stand On SOPA, PIPA. What You Need to Know About SOPA in 2012. SOPA, GoDaddy and the Bottom-Up Democracy (or Mob Rule) of the Web. File Sharing Is Now an Official Religion In Sweden. Google, Amazon, Facebook, and Twitter considering "nuclear option" to protest SOPA. Eight Top Internet Firms Back Alternative To SOPA. SOPA-Supporting News Outlets Aren't Covering SOPA [STUDY] Det Missionerande Kopimistsamfundet | English. A Blacklist By Any Other Name, or, Washing Your Mind Out with SOPA.
---