Phone
Yasp! Class Schedule - Applications sur l'Android Market. My Class Schedule keeps your student life organized!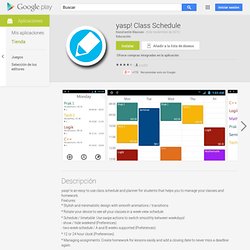 This app will not only keep you informed about your upcoming classes, but also reminds you of exams and unfinished homework. The main feature of this app is its timetable that shows your schedule for any particular day or week. Additionally there are many other helpful features, for example a grade overview with your average grades or the ability to automatically mute your phone during class.No matter if you go to school or university, this easy to use app helps you to keep track of all related tasks. Note: this is the ad-free version that includes some bigger widgets and an additional widget type. Software Data Cable (for Android) Review & Rating. Have you ever wanted to transfer files between your Android phone or other mobile device and your computer without the hassle of cables?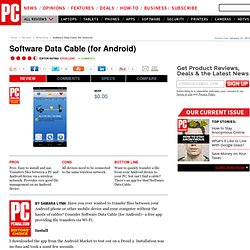 Consider Software Data Cable (for Android)—a free app providing file transfers via Wi-Fi. Install I downloaded the app from the Android Market to test out on a Droid 2. Mozy Adds File Sync Services. Online backup vendor Mozy, part of EMC, announces this week the addition of file synchronization services called Stash to its lineup.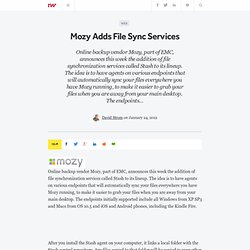 The idea is to have agents on various endpoints that will automatically sync your files everywhere you have Mozy running, to make it easier to grab your files when you are away from your main desktop. The endpoints initially supported include all Windows from XP SP3 and Macs from OS 10.5 and iOS and Android phones, including the Kindle Fire.
After you install the Stash agent on your computer, it links a local folder with the Stash central repository. Apps to Watch | The Official Motorola Blog. We celebrated April Fools' this week by enlisting the help of some of our favorite mysterious creatures.
A UFO, the Loch Ness Monster, and the Yeti all pitched in to create Motorola's surprise stop-motion animation for users who powered up their phones on April 1 (it will be available for 11 more days!). But the story of our boot up began with a creative animator and a vision to bring the art of stop-motion to the new medium of phones. For this week's Download, we want to give you a behind-the-scenes look at what it took to bring our latest Motorola Boot Services animation to life. With Motorola phones, we are always working to deliver highly personal experiences customized for you. And that meant starting from the very beginning: the time you start-up your phone. Aviary Mobile Upgrade Gives Users Powerful Photo Editing Tools.
The golden age of mobile photography is upon us.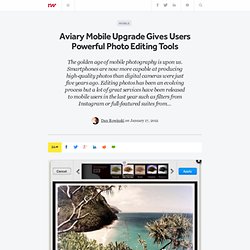 Smartphones are now more capable at producing high-quality photos than digital cameras were just five years ago. Editing photos has been an evolving process but a lot of great services have been released to mobile users in the last year such as filters from Instagram or full-featured suites from Aviary and Skitch. Today, Aviary is making a dramatic update to its platform to gives users a set of powerful tools to edit photos on the go.
Aviary, which has its roots as a popular photo editing browser extension, released the first version of its mobile toolset four months ago. Untitled. Hey everyone!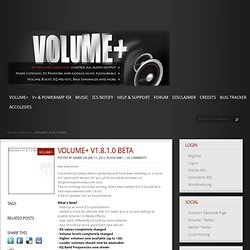 I received my Galaxy Nexus yesterday and have been working on a more ICS 'optimised' version for you all (It should work better on Gingerbread/Honeycomb too)! There's nothing massively exciting that's been added but it should be a nice improvement over 1.8.0.6. Android Geiger Counter. SE Android released: Build your own NSA approved Android device today. On January 6, the US National Security Agency (NSA) released the first public release of the Security Enhanced (SE) Android Project, a program designed to find and plug security holes and risks in the Android flavor of Linux.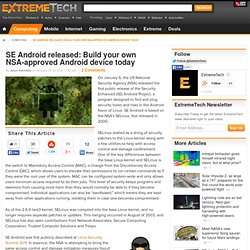 SE Android is based on the NSA's SELinux, first released in 2000. SELinux started as a string of security patches to the Linux kernel along with a few utilities to help with access control and damage confinement. One of the key differences between the base Linux kernel and SELinux is the switch to Mandatory Access Control (MAC), a change from the Discretionary Access Control (DAC), which allows users to elevate their permissions to run certain commands as if they were the root user of the system. MAC can be configured system-wide and only allows users minimum access required to do their jobs. This level of security keeps programs and daemons from causing more harm than they would normally be able to if they become compromised. Best Siri Alternate For Android Is Here - Download Dragon Go! For Android. Advertisements Nuance Communications, better known as the folks whose technology powers Siri for the iPhone 4S, have released a standalone Siri-like app for Android today.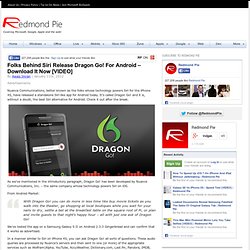 It's called Dragon Go! And it is, without a doubt, the best Siri alternative for Android. BT Controller Turns Your Android Phone into a Game Controller. Android: BT Controller links Android devices together so one Android device can serve as the gamepad for another Android device.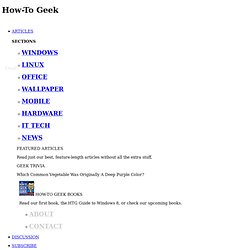 Whether that means you use your Android phone as a controller for video game emulators on your Android tablet or you use an old Android phone to control the action on your new and more spacious Android phone, you can easily link together two devices. Check out the video above to see the installation process and the controller in action (jump to 3:26 if you just want to see them using the controller). BT Controller is available as both a free ad-supported version and an ad-free version ($0.99). Hit up the link below to read more and check out which Android-based game emulators are supported. Boycott SOPA: An Android app that terrifies publishers and politicians. Armchair activists now have a tool that can transport their SOPA protestations into the real world: Boycott SOPA, an Android app that scans barcodes and tells you whether an object's manufacturer/publisher is a supporter of the much maligned Stop Online Piracy Act.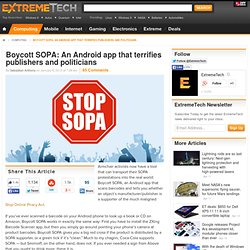 If you've ever scanned a barcode on your Android phone to look up a book or CD on Amazon, Boycott SOPA works in exactly the same way: First you have to install the ZXing Barcode Scanner app, but then you simply go around pointing your phone's camera at product barcodes. Boycott SOPA gives you a big red cross if the product is distributed by a SOPA supporter, or a green tick if it's "clean." Much to my chagrin, Coca-Cola supports SOPA — but Smirnoff, on the other hand, does not. Diagnosis: Monitor Real-Time Resource Usage By Individual Android Apps. There are lots of system and activity monitoring apps in the Android Market, such as Cool Tool, Elixir 2 and Android System Info, but not all display real-time statistics pertaining to consumption of various system resources by individual apps, and that too via a customizable, persistent on-screen panel. Enter Diagnosis; developed by XDA member Dark3n, Diagnosis helps you find exactly how much system and network resources are being consumed by the operating system in general, and each running app.
In addition, the app keeps a close tab on all the core components of your Android device, including battery, CPU, memory, network traffic and apps, maintains a statistical usage history of each, and provides you with a chance to customize and select from as many as ten different styles for the on-screen panel. The app's homescreen comprises several tabs, namely Diagnosis, Battery, Cpu/Mem, Net/Space and Apps. Friday Fun: Kingdom Rush. In this week's game you engage in an exciting campaign to defend the kingdom against brigands, goblins, orcs, and more in battle. Can you lead your troops to victory or will you fall before the oncoming hordes? Kingdom Rush You have three game slots available to use as needed or desired while playing the game.
Here is the campaign map for the kingdom…you and your men will have a lot of territory to defend. Your first battle will be at Southport… What evil awaits you there? Turn Web Pages Into eBooks With dotEPUB Extension For Chrome [VIDEO. Advertisements There are some awesome web pages out there. Not wanting to be big headed or anything, but we like to think that we manage to come up with the odd pearler here every once in a while, too.
But sometimes you just don't have time to read that long-form article. Sometimes you just need to actually do some work at, you know, work. There are already some brilliant web apps for taking web content and making it accessible offline, or at least a way to bookmark everything for reading later. 150 Best Android Apps Of Year 2011 [Editor's Pick] 2011 has been an important year for Android. With devices like Samsung Galaxy S II, Motorola XOOM and Kindle Fire turning heads in the market, atop the release of what is arguably the best iteration of the mobile OS (Ice Cream Sandwich) yet, it was only a matter of time before the head honchos of mobile app development began hopping onto the Android bandwagon.
Not only has the year seen many big names debut on the Android Market, but many novice developers make big names for themselves, and to top it all off, the Market is now home to over 400,000 apps. There is no denying the fact that it is still way behind the iTunes App Store in both quantity and quality (especially where the visual appeal of UI, in general, is concerned), but the degree of improvement that the platform and its apps have undergone the previous year surely exceeds the expectations of most of its fans. Google Currents For iOS And Android Takes Flipboard Head On - Download Now [VIDEO. ICS Browser Plus: Enhanced Variant Of Stock Android 4.0 Web Browser. Android Siri Competitor Iris Takes Step Towards Legitimacy With ChaCha. What You Said: Best Mobile Games for Killing Holiday Downtime. Appkik Is A User-Friendly App Manager & System Optimizer For Android.
AppAware For Android: A Comprehensive Social Network For Apps & Games. How to Use Your Android Phone as a Modem; No Rooting Required, Redux. Yobongo Opens Global Chat & Private Rooms, "iPhone Is Just The Start" How to Find Streaming Movies.
---